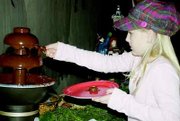 GRANDVIEW - Members of the Grandview Church of the Nazarene officially heralded in the holiday season last night, Wednesday, with the "Birthday of the King" celebration, a time for fellowship and music while focusing on the reason for the season: the birth of Jesus Christ.
The evening gives women the chance to sit back, relax and reflect on the birth of Christ while being catered to by men of the church.
For many women the elegant evening has become a much anticipated annual tradition featuring holiday décor, hors d'oeuvres and dessert, with inspiring entertainment honoring the birth of the king of kings.
Those who missed last night's celebration need not worry, as another "Birthday of the King" is scheduled for tonight, Thursday, at 7 p.m. Ticket cost is $7.
For more information, call 509-480-1989.