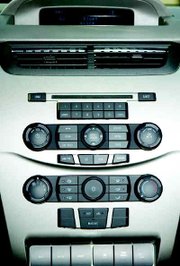 The recent hiccup in the world's economy and the astronomical rise in oil prices have helped bring down car sales across the board.
Congress is now considering giving the Big 3 American automakers billions of dollars in loans, and some people are asking themselves why buy American.
People want vehicles that get great gas mileage because of the recent oil crisis, although that fear has subsided as of late due to falling gasoline prices.
But as all three American car dealerships in the area will tell you, American companies offer more vehicles that get good gas mileage than foreign companies.
"I'm happy to be a Ford dealer, that's for sure," said Tom Denchel, owner of Tom Denchel Ford Country in Prosser.
Denchel said that Ford has focused on safety and reliability for quite some time and are eager to create products that people want.
Denchel said that according to JD Powers and the Insurance Institute, Ford ranks higher in safety than either Honda or Toyota.
The 2009 Ford F-150 truck gets 20 miles per gallon, quite an improvement from a few years ago.
Denchel said Ford is working on eco-boost engines. These engines use a technology that will increase horsepower by 20 percent and gas mileage by 18 percent.
The Ford Escape will be offered Jan. 1, 2009 and will feature a hybrid engine. The Ford Fusion and Mercury Milan hybrids will soon follow.
Already, Denchel said, Ford offers a diesel Ford Focus that gets 62 miles to the gallon. Unfortunately for now, these cars aren't offered in the United States because they don't meet U.S. emission standards, something that is being worked on.
Denchel said these cars are sold in the United Kingdom and France.
"I think the technology is around the corner," Denchel said when asked if the emissions can be lowered on these engines.
When asked why Americans should buy Ford products, Denchel said because Ford cars are world class products that are sold worldwide.
"Our cars compare with any foreign car and are possibly more durable," he said.
He also added that American cars are less expensive to repair and the parts are cheaper. And he said, Ford trucks are still the best selling pick-up in the world.
Brandon Christensen, general sales manager at Mid Valley Chrysler Dodge and Jeep, said the recent money problems the Big 3 automakers are experiencing are due to high labor costs and not poor sales, although he does say that sales are down.
"The economy in this area isn't as bad off as other parts of the country," he added. "Our sales are a little down from last year but things could be worse."
He said that Chrysler has come a long way in the last few years and has become a company geared towards fuel economy.
"Fifteen years ago Chrysler probable made some of the least efficient cars," he said. "Now we build some of the best."
He said Chrysler, Dodge and Jeep make some of the most efficient vans, trucks and mid-size vehicles available on the market today.
"We lead in almost every class of car in efficiency," he added.
In 2010 Dodge is expected to release its Dodge Ram 1500 with a hybrid engine.
The infamous Hemi engine is now back and offers better horsepower and better fuel mileage.
This year Dodge released a hybrid Dodge Durango and its Aspen. Christensen said these vehicles get up to 15 percent better gas mileage.
Chrysler Corporation is also working to ensure its vehicles meet high safety standards, as well.
Steve Griffiths, sales manager at Mid Valley Chrysler, Dodge and Jeep, said side bags are now offered in Chrysler Corporation vehicles.
"Now, not only is the driver and front seat passenger protected, but all occupants," he said.
Other safety features on Chrysler, Dodge and Jeep products are crumple zones on the hoods of the vehicles. This allows the hood to push upwards in case of a head-on collision instead of sending the hood through the windshield.
Christensen said some gadgets soon to be available will be featured on the 2009 Dodge Journey. The cup holders have little coolers in them to keep your pop can cold. There will also be space compartments under the floor boards.
"Dodge hit a homerun on that crossover," he said.
Christensen said he is excited about the future of Chrysler Corporation products, saying a fully-electric car will soon be released.
"We have something for every part of the family," he said. "From first-time buyers and up."
He also added that Chrysler will continue to be progressive and innovative in its research.
General Motors is also moving towards more fuel efficient vehicles with better safety features.
According to Hugo Mendez, sales manager at C. Speck Motors in Sunnyside, General Motors offers at least nine models that get 30-plus miles to the gallon.
With all car companies seeing their sales slump in these tough times, General Motors is offering a lot of incentives with the pricing of the vehicles.
Mendez said for GM's red tag sale going on now supplier pricing is being offered for everyone.
"This brings the vehicle down to near invoice," he said.
With supplier pricing, Mendez said the buyer can usually save between $2,000 and $3,500 depending on the vehicle. Added to that are rebates, anywhere from $500 to $7,500.
He also said GM is doing a lot of research on electric and hydrogen fuel cell powered vehicles.
The Chevy Volt will soon be released and it is an electric car. He said the goal is to get the recharge time down to about 45 minutes.
The hydrogen fuel cell vehicles are still a little ways off but the promise of the vehicles is exciting.
"General Motors is aggressively going after new ideas," he said.
Besides offering safety air bags in their vehicles, GM is also the only car company to offer On Star, a device that allows the driver to call for help by pushing a button in case of an accident. There are also sensors on the air bags so in case they are deployed, an operator from On Star is immediately notified.
The On Star technology can also run a diagnostics test on the vehicle and tell the driver if anything is wrong mechanically.
So while labor costs might be running amok in America, people can rest assured that the Big 3 car companies are still making some great vehicles.
"We've been the brick and mortar for this country," Mendez added.
.