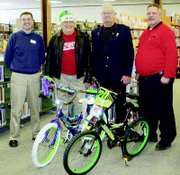 The weather outside may be frightful, so the Sunnyside Masonic Lodge is offering an incentive for youngsters here to pass the time inside with a good book or two.
As part of a program called "Bikes for Books," Masons are providing two brand new bicycles (one boy and one girl's bike) at the Sunnyside Library as well as at Sunnyside elementary schools.
All told, 10 bikes will be awarded based primarily on how much the children read.
Theron Lochener is the secretary for Sunnyside Masons, and he says it's up to each individual school or library to set their own standards for how students qualify for the bicycle prizes.
Last year, for example, the Sunnyside Library awarded the two bicycles based on a raffle drawing of tickets by students who had read a specific number of books.
Children have to read at their grade level in order to qualify. In other words, a fifth grader can't count picture books towards their overall total.
The bikes for books effort is possible, in part, because Lochener said Masons are able to buy the bicycles from the Sunnyside Ace Hardware store at a discounted price.
The Sunnyside Library isn't exactly sure what the criteria will be for earning the bikes this year. Though reading will certainly be part of it, Sunnyside Library Branch Manager Francisco Garcia-Ortiz suggested perhaps a poetry contest may also be involved.
This is the second year the Sunnyside Library has been a part of the bikes for books program.
Lochener says Masons hope the effort will encourage more children to be readers.
"We want to get more kids to start reading," he said.