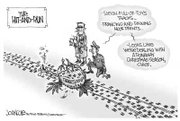 I'm tempted to start this column with a joke like "How many blondes does it take to assemble a pre-lit Christmas tree," but alas, my fiancé is not a blonde and the joke truly wouldn't reflect the debacle we created this past weekend when trying to inject the home with holiday cheer.
It all started with a 'wild hair' on my part, as most of my adventures do.
I had decided that the two 6-ft. artificial Christmas trees that I own are not good enough because neither one is pre-lit and both have, like, a zillion pieces to put together.
I poked and prodded Scott, proclaiming that surely a 7-ft. pre-lit Christmas tree would be a dandy investment for the family, something we'd appreciate for years to come.
"This will be so much more convenient."
I said it so much, these words are probably still rattling around in Scott's head, maybe even ringing in his ears.
I called the Grandview hardware store Saturday and learned they'd sold out. Down in Prosser visiting friends, I popped into a store there and, I asked the clerk if he had what I was looking for.
He looked, he hemmed, he hawed, he asked another clerk. End result: a swift and certain "No."
Thinking I was just going to have to live with what I have, zillion parts and all, I made my way to the door when I heard the clerk say, "Now waitaminit, I think we've got some in the back."
Sure enough, they did-and a choice, too, between clear lights or multi-colored.
So I get on the horn with my fiancé and declare that, alas, I found us a tree!
I then headed home, but Scott was nowhere to be found. After a while, I called him on his cell only to learn he was trying to surprise me and he was on his way home from the Prosser hardware store, 7-ft. Christmas tree in tow.
Proudly, he declared, "It's got multi-colored lights!" This was met with a heavy, many-seconds-too-long silence on my part.
"But I want clear lights!," I whined.
A half-hour later, he comes home, 7-ft. pre-lit Christmas tree with clear lights in hand. Rather, box.
Then the real fun began.
Non-plussed with the ominous "assembly required warning," we proceeded to take the thing out of the box. In the meantime, I'm excitedly babbling about how pre-lit trees are so much more convenient because you don't have to assemble it branch by branch or string lights.
I tend to view instructions the same way I do maps. In other words, not at all. Scott, on the other hand, is methodical. Practical. Eager to know details. Eager to be instructed, so to speak.
We dismantled the cardboard box and were left with what was clearly obvious to be a stand, as well as two large evergreen bulks.
We got the stand up OK, but couldn't really tell which of the green bulks went in the slot first. On a whim, we grabbed what we thought would be the right one and proceeded to get down on our hands and knees and twist the screws that hold it in place.
Eager to get the job done, we momentarily forgot about my bad back and his bad knees.
We screwed the thingies in place but then it was time to get up.
We smiled self-consciously at each other, knowing this was not going to be graceful. Not even a little bit.
We grunted, groaned, winced and leaned on the couch for support in standing up.
We were so ridiculous sounding that we looked at each other and lost it, laughing.
Then we went back to work trying to erect that tree.
We fiddled, we faddled, we tried turning it upside down, we tried all kinds of things but one thing was clear: our dreams of getting the tree up that day would have to be forsaken in lieu of our patience and good humor.
The common reaction from friends over the next few days when hearing of our dismal and failed attempt to assemble the tree was, "You are kidding, right?"
It was Little Miss Smarty Pants Kris who came to the rescue.
One of the things I love about her is her fantastic burst of emotions. The girl laughs out loud, lots, and expresses excitement loudly.
In an effort to surprise Scott, we met while he was at work, rolled up our shirtsleeves and proceeded to try and figure the darn thing out.
Patiently, she instructed me to help her by loosening up the branches, starting at the bottom. By the time we were three-quarters up the tree, Kris let out a whoop of excitement and proclaimed, "I found it!! I found the third piece!" For being such a tiny thing, she sure is loud when she gets excited.
"Third piece?," I asked, puzzled.
Therein lies the assembly problem. Turns out there are three, not two, evergreen-colored bulky thingies, one was artfully hidden into another.
There you have it. Three days after the purchase of my "This will be so much more convenient" 7-ft. pre-lit Christmas tree, we are finally enjoying it.