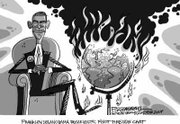 After the inauguration of Barack Obama as President, the White House and Congress will both be controlled by Democrats. There's an important question that should be high on every attentive citizen's list of concerns: will Congress live up to its responsibility to exercise robust oversight over the new administration?
I hope the answer is an emphatic "yes," because whoever is President, an administration needs oversight.
It is Congress's responsibility, after all, to ensure that the country is functioning properly and our laws are working as intended. In fact, this oversight process can be helpful to the White House, by bringing fresh eyes and insightful questions to policy-making and its implementation.
In 1787, John Adams wrote of what were to become the House, the Senate and the presidency, "Without three divisions of power, stationed to watch each other, and compare each other's conduct with the laws, it will be impossible that the laws should at all times preserve their authority and govern all men."
The start of a new administration is exactly the moment for our leaders to recommit to that ideal.
Lee H. Hamilton is director of the Center on Congress at Indiana University. He was a member of the U.S. House of Representatives for 34 years.