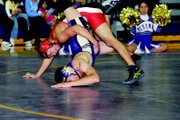 MABTON - The Mabton Viking grapplers hosted a double-dual event last night, competing against Sunnyside High School's JV and the Wahluke varsity.
The JV Grizzlies handily defeated the Mabton varsity 57-12, but the Vikings were not to be deterred and won a 38-24 decision against Wahluke, who had faced off against Ellensburg earlier in the evening.
Mabton's Eric Meza (130 lbs.), in spite of not feeling well, pinned both his competitors. He secured his first win in 3:17 against Sunnyside's David Vidales. He had Warrior Heriberto Mendoza down in 1:36.
"Eric and Angelo Salinas are two of our shining stars," said Mabton Coach John Kilian.
"I'm real proud of Eric with his two pins on the night...he told me he wasn't feeling well, but he had a pretty good day," he commented.
Kilian said Meza is a two-time sixth place winner at State and is looking forward to making it there a third time.
Salinas (171 lbs.) pinned Sunnyside's Omar Isiordia in 2:39 and earned a 15-4 decision over Wahluke's Sal Roman.
Kilian said Salinas went to State last season, but didn't medal. "This year he is hungry for a medal," he stated.
The Vikings forfeited four matches against Wahluke and five matches were forfeited to Sunnyside.
Arturo Nunez (135 lbs.) of Mabton earned a 15-3 decision over Warrior Antonio Godinez, but was pinned by Sunnyside's Trevor Gaskin in 4:49. Mabton's Andy Rivera (140 lbs.) pinned Wahluke's Jesus Rodriguez in 1:46, but was defeated at 145 lbs. by Sunnyside's Emmanuel Tejeda. Sunnyside's Nick Martinez wrestled Mabton's Fabian Ruiz and won 8-2 in the 140 lb. division. Frank Martinez (152 lbs.) of the Vikings had a rough night and lost by way of pin to Sunnyside's Andy Cantu in 4:10 and to Wahluke's Mario Herrera in 1:39. At 215 lbs. Eric Huesca lost a 5-0 decision to Grizzly grappler Alex Isiordia but won by forfeit against Wahluke. Vikings' Jesus Cardenas was pinned in 2:07 by Sunnyside's Ely Gonzalez at 285 lbs., but won the Wahluke match by forfeit.
Kilian commented, "Wahluke has a lot of rookie wrestlers...Sunnyside is a tough team...the matches we wrestled were good and winning the match after Sunnyside beat us up was good."
He said his team learned it has work to do before experiencing a successful season, but he has confidence in the abilities of his grapplers. "The season will be interesting, but before we know it Districts will be here," Kilian continued, saying he was proud of the Vikings for having only lost only one match against the Warriors.
Mabton will be on the mats again tomorrow at a tournament in West Valley.