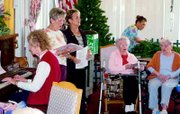 There will be no shortage of activities this Christmas season for residents of both Hillcrest Manor and Rehabilitation Center and Sun Terrace Retirement and Assisted Living, both in Sunnyside.
Hillcrest residents, called elders, this week got in the spirit of the season by selecting gifts to present to their families. The gifts were purchased by Hillcrest and placed on a table for elders to choose from. The gifts were then wrapped for presentation this Christmas.
Hillcrest is also planning a "neighborhood decorating" event this month, to encourage elders and staff, called care partners, in decorating the different halls of the center.
Also planned is a Dec. 16 Christmas party for elders and care partners, including entertainment, music and door prizes.
Additional events during the holiday season include a party for elders and children. Mary Arthur is Hillcrest's director, and she said a giving tree is also planned in which elders express their gift wishes by placing tags on the tree. The presents are then purchased and wrapped up for gift-giving at Christmas.
Hillcrest residents will also take part in this coming Saturday's Lighted Farm Implement Parade in downtown Sunnyside, as some will sit on a float shaped like a gingerbread house. Hillcrest's float took second place honors last year.
There is also time provided for spiritual needs during the holidays, Arthur said, as local church groups provide singing, prayer and scripture reading services for the elders.
Hillcrest, which recently received a two-year renewal as an Eden Alternative facility, focuses on the elders and their wants and needs during the holidays and year round.
Pointing to a circular organizational chart shaped like a heart, Arthur noted, "The elders come first. We want to follow their wishes."
At Sun Terrace Retirement and Assisted Living, residents and their families will sit down to a Christmas dinner that will be served Dec. 11.
Shari Wilson is the activities director at Sun Terrace, and she said there will be two options for the dinner so that all families will have a chance to be served dinner. "The biggest thing is our family Christmas dinner," said Wilson. "All the families show up."
Residents can also put their Bingo earnings to good use in shopping for Christmas gifts, as a table of items will be available with gifts to be purchased from the Bingo winnings.
Sun Terrace staff will also escort residents to observe the Sunnyside Lighted Farm Implement Parade this coming Saturday, Dec. 6.
Wilson said Christmas carolers will visit and Bible studies will be held during the month of December. Besides local churches, other groups that often come during the month of December include students from Sunnyside Christian School.
Residents are also treated to a tour of Christmas lights in the Lower Valley area on Dec. 18. Wilson says the tour lasts about an hour and takes residents to see lights not only in Sunnyside, but in Grandview and rural areas of the Lower Valley.
Closer to home, Sun Terrace residents on Dec. 24, the day before Christmas, will be treated to a bake and take cookie decorating activity. As the name suggests, residents will be invited to decorate a Christmas cookie, then take it home to enjoy.
Part of the holiday spirit, of course, is enjoying new year festivities. At Sun Terrace they're planning a New Year's Eve party on Dec. 31 at 2 p.m.
For more information on holiday activities at either location, or if you're interested in providing an activity such as caroling, call Hillcrest at 837-2122 or Sun Terrace at 839-0579.