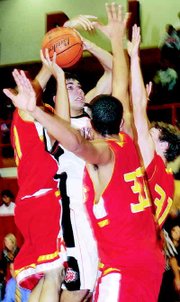 The 3A Sunnyside Grizzlies boys basketball team played 4A Kamiakin tough for three quarters this past Friday, but fell 54-40 after the visiting Braves enjoyed a 16-6 run in the second quarter.
It was the season opener for Sunnyside (0-1), which trailed just 11-7 after the first quarter.
That set the stage for Kamiakin's second stanza heroics. Sunnyside Coach Ron Rowe said his team struggled on offense, shooting just 2-for-12 from the floor in the period. "We had some good looks but we just weren't able to convert on those," said Rowe.
Meanwhile, Kamiakin lit it up and to make matters worse snuck in for a few offensive rebounds and putbacks to build a 27-13 lead at the half.
Sunnyside found its mark in the second half, shooting at a 45 percent clip from the perimeter (11-for-25). The Grizzlies pulled to within 39-28 after three quarters and Rowe said Sunnyside whittled the deficit to single digits midway through the fourth.
They had chances to get even closer.
"We got a couple of steals on our press but we weren't able to convert," said Rowe.
The Braves answered with a three-pointer to get the lead back into double digits and put the game away.
Israel Manzo led Sunnyside with 13 points and four assists, followed by teammate Kyle Leija with 11 points and two assists. Chance Graff climbed the boards for six rebounds to lead the Grizzlies to a 26 to 21 advantage in the paint.
Kamiakin was led by Jeremy Rojas and Case Rada with 16 and 10 points, respectively.
"We just need to keep playing strong and tougher on the boards, and consistently on defense," said Rowe, who noted his team needs to clamp down under the rim to prevent the kind of putbacks Kamiakin earned in the second quarter.
"We played some pretty good defense throughout the game, but we had some breakdowns and allowed them to get some easy baskets," said Rowe.
He said one of the keys for his players to improve will be gaining more playing time together in real game situations.
Sunnyside is home again tomorrow, Tuesday, when it plays Lower Valley rival Grandview.
"We'll just work on continuing to improve and playing stronger defensively," said Rowe. "We used our full court press effectively, but we need to make our transitions better."