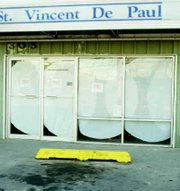 Sunnyside's St. Vincent de Paul store has closed its doors and discontinued operations at 305 North Avenue.
The center provided free clothing and household items to families in need in addition to operating a thrift shop.
St. Vincent Center Director of Operations Lisa Simmons said despite the closure, her organization will continue to maintain a strong presence in the community.
"Catholic Charities will continue to have a significant presence in Sunnyside, serving families at the new 52-unit Cristo Rey housing development located at 330 N. 16th Street and the new expanded office of Catholic Family and Child Service located next to Cristo Rey," she said.
Simmons declined to cite a reason for the store closure, but said that its four part-time employees "were taken care of."
Added Simmons, "That location wasn't working for us. That's not to say that down the road we're not looking at operating at another location in Sunnyside."
Despite the fact that the center provided free clothing and household items to the needy, rarely did that generate foot traffic at the store, she said.
For the items currently at the location, Simmons said her organization will contact area thrift shops and see if they need any of it "so (items) can stay in the local community."
Those who have previously donated items to the thrift shop are encouraged to donate to either Goodwill or the Sunnyside Christian Thrift Store.