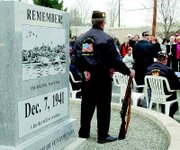 Vacation pay ranging from up to six to nine weeks is part of the 2009 compensation package the Sunnyside City Council approved for four of its unions last night, Monday.
The union packages call for an across the board 5 percent pay increase that will cost the city nearly $300,000 in 2009. The action came during last night's regularly scheduled council meeting, the last one for 2008.
Council approved the union contracts, with Councilwomen Theresa Hancock and Carol Stone casting the lone no votes. Hancock said she opposed the union pay raises and was concerned that council was not kept informed of the proposed pay raise during union negotiations.
Hancock also questioned figures initially presented to council regarding the elimination of vacation buy back the unions agreed to for 2009.
Initial estimates by City Manager Eric Swansen earlier this fall indicated the city would save $150,000 per year by eliminating vacation buy back. Hancock said she had heard a figure that $1 million would be saved over a period of 10 years by doing away with vacation buy back.
Hancock contended last night the buy back savings are less and offset by the union pay raises. Year-by-year numbers provided last night by Finance Director Jordan Arreola back up Hancock's contention, as vacation buy back has cost the city an average of $60,000 per year, not $150,000, since 2004.
With the pay raises come an additional $70,000 in benefits, and Hancock said that combined with the pay increase means the city in 2009 will have given back $370,000 of the $1.1 million in budget cuts already made.
The cuts made for next year included eliminating nine positions.
And more will be in the offing.
That's according to Stone, who during a later discussion prior to passage of 2009's $7.9 million general fund budget said the city will need to make cuts in staffing and service during 2009.
Hancock said much the same, noting the level of employee pay across the board means that 2009's budget will be unsustainable and hinted there could be employees laid off early next year.
Stone and Hancock both voted no on the 2009 budget proposal, which passed by a margin of 5-2.
Sunnyside still has two more union contracts to approve for police personnel in 2009, but Swansen said both contracts are nearly wrapped up.