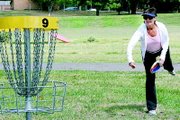 GRANDVIEW - Seeing a need for additional activities that can be enjoyed by both youth and families, Grandview High School senior Jake Wagner has been working toward adding a Frisbee golf course to Grandview's Dykstra Park.
He said there were several of these courses when he lived in Springfield, Ill. There are opportunities to play Frisbee golf in both the Tri-Cities and Yakima, but none in the Lower Yakima Valley.
Wagner has been in the process of obtaining support for his senior project. Grandview City Council approved the project last Monday, Dec. 1, and he has garnered support from local churches and the Grandview Parks and Recreation Department.
Without asking for financial support to date, several community members have already committed to the purchase of baskets for the course. "Five out of the nine holes have already been sponsored," said Wagner.
He is elated at the thought that there is community support for his endeavor. He said being more than halfway to the goal of having all nine holes for the course is encouraging.
Each hole costs approximately $110, according to Wagner, who said a hole consists of a basket on a pole for the purpose of catching the discs. There are three discs used in the game of Frisbee golf...the driver, the range disc and the putter. He said the difference between the three discs is weight.
When Mike Carpenter of Grandview Parks and Recreation spoke before City Council, he told them Wagner would raise funds for the project and disc sets would be provided to the parks and recreation office for the purpose of being utilized by community members.
He told them community members may pay a small fee for the use of the discs, but could use their own discs if they desire.
Wagner also noted there are professional Frisbee golf tours. If the course at Dykstra Park meets professional tour standards, there is the possibility groups will be willing to pay a fee to use the course.
Because he is not able to handle donations and funds for the project, Wagner said he will be asking the Grandview Rotary Club for its assistance. He will be raising the funds, but the club, if they choose to help him, will handle all money associated with the project.
He still needs to raise funding for four of the holes and is seeking sponsors.
"I am really excited because anyone can play Frisbee golf," said Wagner.
He said anyone wishing to support his senior project can contact him at 831-4735.