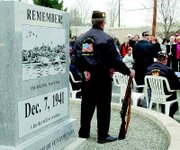 Local veterans and their families have had to wait two years or so for completion of the first phase of the plaque and marker installment at Jerry Taylor Veteran's Plaza at Edison Avenue and Ninth Street in Sunnyside.
But it was worth the wait as a dedication of the first of five phases was carried out this past Sunday, Dec. 7, on Pearl Harbor Day.
Greg Schlieve of Grandview spearheaded the effort and he told a crowd of about 100 people on Sunday that a Pearl Harbor Day dedication was not in the initial plans for the memorial monuments. Even so, it proved to be an appropriate timeframe, as one of the two markers bearing the name of local veterans has a remembrance of the Pearl Harbor attack etched on the other side.
The other marker has an image remembering the Sept. 11, 2001 terrorist attacks on the reverse side.
Sunnyside Mayor Paul Garcia addressed the crowd, who attended the outdoors event despite rain and a chill in the air.
Garcia called the plaza and its new markers "a daily reminder of the cost of freedom."
The memorial site is named for Jerry Taylor, a deceased Sunnyside veteran, city council member, mayor and advocate for other veterans.
His widow Joyce Taylor was in attendance with children, grandchildren and even a great grandchild.
"It's very exciting," Taylor said after the ceremony, noting her husband was one of the people who helped get the plaza site established. "I appreciate all of the efforts of the city and the veterans for working on it."
Also on hand for the ceremony were L.J. and Ginger Emerson, whose son Matthew died last year while serving the U.S. Army in Iraq.
"It's a tremendous honor that the community has given him," said L.J., admiring his son's plaque on one of the two granite markers. "It always helps to ease the pain to know that there are so many who remember."
Since plaques on the memorial markers honor current and past Lower Valley veterans - whether or not they served in war zones - Ginger Emerson said the plaques will help remind people there are numerous Lower Valley young adults serving in the military right now.
As cranes gingerly lowered the markers into place this past Thursday in preparation for Sunday's event, Schlieve said he envisions the 400-foot long plaza with its five phases of markers to eventually be a central gathering place. A site to reflect, remember and honor those who served and are serving now, he said.
Count the Emersons among the bunch who'll do just that.
"This is very nice," Ginger Emerson said. "We'll come back."