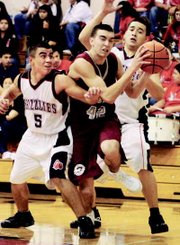 The Sunnyside and Grandview high school boys basketball teams played an epic game last night at the Sunnyside gym, with the Grizzlies edging out the Greyhounds 66-61 in a non-league match-up.
"It was a hard played basketball game both ways," Sunnyside Coach Ron Rowe said. "We played some excellent defense at times. They did too."
Except for a one-point deficit in the first quarter, the Grizzlies led most of the game.
Missing from the Greyhound line-up was Rogie Fajardo and Eric Rodriguez. Both spent time riding the bench in the first half due to foul trouble.
But that was okay according to Grandview's coach, Roy Garcia. He said this allowed him to give his bench players some playing time.
After the second quarter the Grizzlies led Grandview by a score of 25-21.
Grandview was still down by four points after three quarters, setting up a wild fourth.
Sunnyside and Grandview combined for 52 points in the final stanza, with the Grizzlies outscoring Grandview 27-25 to walk away with the win.
It was a tightly contested quarter with Grandview tying the game at 41 points apiece before Sunnyside was able to regain the lead.
Sunnyside's lead was cut to one point late in the fourth but the Grizzlies hit 9-of-13 free throws in the last two minutes to seal the deal.
"There was a lot of real good offensive play in the fourth quarter," Rowe said. "Both teams took advantage of turnovers."
Kyle Leija and Alfredo De La Barrera led the Grizzlies with 13 points each. De La Barrera added six rebounds.
They were followed by Israel Manzo and Matt Johnson with nine points each.
Pedro Vargas added seven points for the Grizzlies and Jordan Esqueda had five points and three assists.
Fajardo and Christian Schrank led the Greyhounds with 13 points apiece.
"Schrank played a great game," Garcia said. "This is his first time on varsity."
Joseph Babcock added six points for the Greyhounds and Josh Bertsch had five points.
The Grizzlies owned the boards last night, getting 32 rebounds to just 15 for Grandview. The Greyhounds shot 23-for-51 from the floor, including six three-point shots. Sunnyside was 18-for-59 from the field, hitting just two shots from behind the three-point arc.
The difference was in free throws, with Sunnyside going 28-for-32 compared with Grandview's 9-for-13.
"We shot very well from the free throw line," Rowe said. "We had quite a bit of balance scoring."
Sunnyside (1-1) will travel to Walla Walla Friday, Dec. 12, for a 7:30 p.m. game with the Blue Devils.
Grandview (0-1) will travel to Wapato to open CWAC South play Friday, Dec. 12, at 7:30 p.m.
"Overall it was a fun game to be a part of," the first-year coach Garcia said.