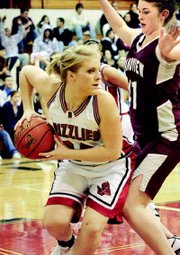 Grandview's 21 turnovers led to 27 points for Sunnyside in last night's non-league match-up between the Lady Grizzlies and Lady 'Hounds hoops teams.
Sunnyside went on to score a 55-41 win for its first victory of the season. For the Grandview High girls basketball team, last night's loss came in its first game of the year.
Lady Grizzly Sarasa Partida scored 21 of Sunnyside's points, she also had five defensive rebounds. She put Sunnyside up by three points at halftime, hitting four free-throws to end the second period.
She began the first minute and a half of the third quarter with three 3-point baskets.
The leading scorer for Grandview was Gio Gomez, who posted 15 points and added two rebounds. Teammate Kinzi Poteet had 20 boards, leading the Lady 'Hound defense. She blocked four shots and provided two assists, while Gomez and Gabby Montelongo provided a total of 13 steals combined.
Sunnyside Coach Eric Berg attributed Poteet's limited scoring (10 points) to the defensive tactics of Lady Grizzlies Toni Castillo and Megan Tyler. He said the pair limited the Lady 'Hound to two points in the second half, shutting her offensive play down.
Sunnyside's Destiny Maya scored 11 points for her team, she led in stealing the ball six times, while teammates Samantha Wright and Tyler led in rebounds with eight apiece.
Grandview actually outboarded the Lady Grizzlies by a 42 to 28 margin.
Sunnyside outscored Grandview 16-5 in the third quarter to take control of the game.
Berg said, "It feels pretty good to get our first win…it was a good game, the girls earned it."
He said, "We did what our offense is designed to do and we got their (Grandview) girls in foul trouble."
Berg noted a need to improve in the area of free-throw shooting, as the Lady Grizzlies were at just more than 48 percent on the night.
Coach Renee Van Pelt said Grandview was out of sync last night and she feels the team was "outhustled" by the Lady Grizzlies.
Both teams will be on the hardwood again Friday night. Grandview travels to Wapato and Sunnyside hosts Walla Walla.