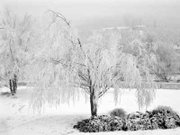 Carri Rasmusson's scenic photograph of a tree covered in snow in a wintery landscape grabbed the first prize at the second annual Sunnyside Community Hospital photo contest.
Rasmusson works at Sunnyside Pediatrics.
Sunnyside Community Hospital Community Relations Director Tom Lathen said 25 percent of the hospital's 300 employees voted on the 155 entries from hospital staff.
The hospital employees were vying for the coveted cover spot on the hospital's 2009 calendar and the results were announced this past Monday.
Rasmusson took first by garnering 18 votes. Fe Demiar, a CRNA at the hospital, took second place with nine votes.
Rounding out the winners, whose photos will adorn each page of the calendar, were Donna Dill (family birth center), Michael Gawlik (hospital based internist), Jim Grettner (lab), Carrie Fiedler (Birch Street Medical Center), Danise Cathel (quality management) and Lathen.
Each winner will receive a free copy of the 2009 Sunnyside Community Hospital calendar.
Lathen said most of the photos picked up votes and said he is hoping to get more people involved in the contest next year.