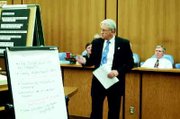 YAKIMA - With the highest rate of felony filings per capita in the state and a case backlog numbering more than 1,000, something needed to be done to help Yakima County's Superior Court proceed in a more timely manner through its workload.
At high noon yesterday, Tuesday, Superior Court Presiding Judge Ruth Reukauf unveiled the court's plan for dealing with the backlog and introduced a team of judges from around the country that chose Yakima County as one of four places in the nation to help with implementing and suggesting changes.
In 2007 Yakima County Superior Court had 5,292 felonies, misdemeanors and gross misdemeanors filed. Of those, 4,637 were felony filings.
In essence, the court will come Jan. 2, 2009 have two judges instead of one devoting all their time to the criminal calendar five days a week.
Reukauf says it's about being proactive, even in this case taking a trial judge and moving him or her to the criminal calendar. "Hopefully we can catch them up on the front end instead of waiting until they're all the way to trial," she said.
The change takes effect Jan. 2, 2009. Other changes afoot in the county's court system include creating a quality assurance manager position which allows the court to monitor how cases are progressing through the system. In addition, Yakima County commissioners have thrown their support behind the effort by agreeing to fund the quality assurance position and allowing the court to retain a staff position that was initially set to be eliminated during budget cuts proposed earlier this fall.
Judge William F. Dressel of Colorado was one of the four panelists on hand for yesterday's meeting in one of the Superior Court rooms. He's the president of the National Judicial College and says it's vital the county take action in order to maintain the public's trust in the judicial system and to ensure a timely and cost effective manner of handling cases.
Known as "case management," Dressel described the new system that will take effect here Jan. 2 in which cases are treated differently based on the types of crime. Burglary and DUI, he said, need to be treated differently than homicide and should require less time to process. He compared it to the medical profession in which different ailments are prescribed to be treated by different doctors.
Dressel also called on the court judges here to make the tough calls and warned they may need to deny time extensions on cases. He said firmness and fairness go hand in hand.
After the presentation, Dressel said the case management system should be a benefit to victims in having cases resolved sooner rather than later.
"It'll help them move on with their lives," he said.