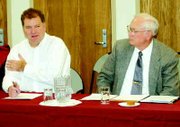 'Tis the season for wish lists and the city of Sunnyside aired its for local legislators during a special meeting yesterday morning, Wednesday, in the shuttered community center building.
Sunnyside's list didn't include re-opening the building, a victim of recent budget cuts, but City Manager Eric Swansen did ask the local legislative contingent for less state government intervention when it comes to tackling law enforcement issues with criminal gangs.
Sunnyside passed the first anti-criminal gang law in the state last year, only to see state lawmakers take some of the enforcement teeth out of it with a statewide gang bill.
The State Legislature convenes again beginning Jan. 12, 2009.
Yesterday's meeting also included representatives from the Sunnyside School District and the Port of Sunnyside.
The city and school district have partnered in creating a Choices program that provides an alternative classroom opportunity for students involved in gangs or at-risk to be in gangs.
Dr. Rick Cole is the superintendent of Sunnyside's schools, and he called on legislators to pursue funding for a year-round Choices program, instead of having it tied to the traditional nine-month school calendar.
Cole said the change is needed because students in the program will be released back into the community without the Choices oversight and accountability throughout the summer.
Making it a year-round program will require an additional $20,000 in funding, said Cole, and a change in state rules related to the program.
Swansen also asked legislators to push forward a bill creating a state law what would make it illegal for those under 18 years of age to purchase spray paint and other marking devices known to be used for making graffiti.
Noting that some of the graffiti done by gang members is also by those 18 and older, State Rep. Dan Newhouse asked whether the spray paint ban would be just a "feel good" effort or whether it would really make a difference. He told Sunnyside his interest was in getting legislation done that does the latter.
Swansen said it would make a difference, and Amber Hansen with the Port of Sunnyside said the presence of graffiti around town makes it difficult to attract industries and businesses to Sunnyside.
Sunnyside City Councilman Bill Gant said the bottom line for the meeting should be making Sunnyside a place "where people want to live and spend their money." He indicated a lack of feeling safe is one reason "35 to 40 percent" of city and school district employees don't live in the city.
In other discussion items, State Rep. Bruce Chandler said the city's interest in amending public records request laws regarding obtaining legal documentation on an issue a municipality is actively pursuing in court would likely face an uphill battle.
State Senator Jim Honeyford told the 20 or so people assembled that state workers will likely not get a raise this year because of a $5.1 billion budget shortfall.
Hansen and Swansen also called on lawmakers for help in dealing with state agencies that continue to rewrite wastewater regulations. Hansen said the port faces a situation where every five years it's having to look at 20-year financing for agency-mandated upgrades. That schedule, she noted, is not sustainable for the port or its ratepayers.
Near the conclusion of the meeting the port, school district and city government indicated the discussion with legislators would continue into the new legislative session. That includes banding together again in February to travel and bring the wish list to Olympia in meeting with local legislators.