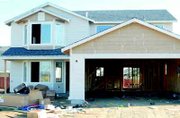 In an otherwise slow month for new building starts in the city of Sunnyside, Aho Construction's home project at 1600 Bountiful Ave. dominated permitted projects for the month of November.
The home, part of Aho's Harvest Village, is valued at $238,428 and generated $2,007 in permit fees to the city of Sunnyside. The new house accounted for all but about $60,000 in valuation for new building starts in the city during November.
In other activity, city officials gave the thumbs up for two roofing projects by the Sunnyside Housing Authority. The re-roof projects are at 1319 S. Sixth Street and have a combined total value of $12,002. The roofing projects generated $287 in permit fees for Sunnyside city coffers.
Sign permits were issued for three projects in November, including a $7,000 monument sign for the Port of Sunnyside's business park on East Edison Avenue.
Sunnyside city officials issued a total of 43 permits during the month of November, including 23 for building and eight for plumbing. The 43 permits are a steep drop from the 246 Sunnyside issued in November 2007.
City officials also conducted 206 inspections last month, 118 of them related to buildings and 51 for plumbing.