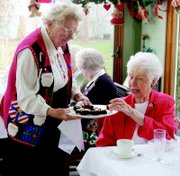 Sixty years after it was founded, a Sunnyside ladies bridge club still has two of its original members, Maxine Stevens and Charlotte Miller, who are 91 and 90 years old, respectively.
At one time the club was involved in a tree festival for Sunnyside and today finds other ways to serve such as through medical charities.
All the while, though, they're still playing bridge.
"We like to gamble," Stevens said with a gleam in her eye. Miller said her favorite part of the game is the strategy required. "You have to think about your bidding," she said. "You have to think a little, you just can't play it."
They may have 120 years of bridge club membership between them, but Stevens said there are still slip-ups occasionally.
"Trumping a partner's ace," Stevens said of one of the goofs she's seen during her years.
"That's not good," added Miller.
With time and age, Stevens said there are times where a review is needed during a game of bridge. "Nowadays we ask who dealt what? Whose bid is it?" she laughed.
Of course, there's more than bridge at the monthly get-togethers at a bed and breakfast on Blaine Avenue in Sunnyside. It's an afternoon-long social event for the participants.
There's lunch, prizes and cocktails also to be tended to.
Dottie Aiken calls herself one of the club's new members. She's been involved with the bridge group for 19 years.
She feels blessed to be a part of the monthly get-togethers.
"I was fortunate enough to be asked," she said with a big smile as she served sweets.
"We're so good at it," Stevens laughed when asked why she was still at the game of bridge. Miller says she's stayed with the club these 60 years because of all the friendships she's developed.
But don't kid yourself, after 60 years of practice she's got some of that competitive spirit, too.
"I think we're becoming better at it," she smiled.