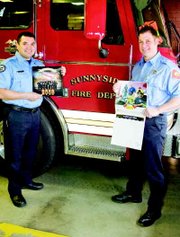 Thinking of ways to give back to the community and help out Lower Valley Hospice and Palliative Care, Sunnyside Firefighter Mike Beckwith came up with a novel idea. Have the fire department pose for a calendar.
So last summer Beckwith took his idea to his union, local 3542, and pitched it. Beckwith said the idea was adopted by the other guys and as a group decided it was the thing to do.
"We wanted our local to give back to our community," Beckwith said.
This is no beefcake calendar, but one depicting each of the 15 firefighters on staff in Sunnyside. The pictures show each firefighter with either his family or doing something they love to do.
"Whatever they were in to," Beckwith explained.
One guy posed with his beloved barbecue and another made sure there was plenty of golf clubs in the picture.
"We wanted it to be a fun calendar," Beckwith added.
Beckwith said the department received financial backing for the calendar by getting businesses to pledge $100. Beckwith said 59 businesses from Zillah to Prosser answered the call.
He then got Perfect Printing in Prosser to create the calendar.
"We have to thank the sponsors," Beckwith said. "Without them none of this would have been possible."
Sunnyside Firefighter Tony Castillo concurred.
"Hats off to the Lower Valley businesses who wanted to support hospice," he added.
The 15-month calendar begins with December 2008 and ends with the month of February 2010.
"It's a good way for the public to see some of the new people we have in the department," Beckwith said. "It will make a great gift for Christmas."
The cost of the calendar is $15 with all profits going to help Lower Valley Hospice and Palliative Care.
The boys down at the station will even sign the calendars for anyone who wants that.
The calendars can be purchased at the Sunnyside Fire Department, the Funny Farm and Hairworks.