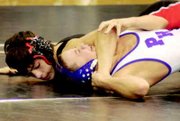 After losing a close meet to the Wenatchee Panthers last Tuesday, the Sunnyside High School wrestling team came out and completely demolished the Pasco Bulldogs last night, 51-10.
The 3A Grizzlies went 1-2 in the first three matches before reeling off 10 straight wins against the 4A Bulldogs to pick up their first CBBN league win.
Pasco took a short-lived 3-0 lead in the first match when Frank Garza (189 lbs.) edged Sunnyside's Adrian Ramirez 4-2.
Sunnyside's Danny Almeida gave the Grizzlies the lead in the 215-lb. match when he pinned Ubaldo Reyes in 3:43.
"Danny was up 7-0 at the time," Sunnyside Coach George Paulus said.
Davin Kerr tied the score for the Bulldogs at 6-6 when he decisioned Sunnyside's Adam Peters (285 lbs.) 5-1. That would be as close as the Bulldogs would get as the Grizzlies begin their run of 10 straight matches at the 103-lb. weight class.
Sunnyside's Christian Reyes started the onslaught when he pinned Deondre Sparks in 1:42.
That was followed by Sunnyside's Steven Romero (112 lbs.) scoring a technical fall against Ryan Johnson, 22-7.
"Steven was just taking him down and then letting him back up again," Paulus said. "Steven was far superior."
In the 119-lb. match, Sunnyside's Rigo Valdez pinned his opponent, Spencer Van Sickle, in 3:45.
"That was a fairly good match," Paulus said. "Rigo was ahead 2-0 at the time but he had been dominating."
Sunnyside continued its run in the 125-lb. match when Isaac Guerrero beat Kevin Young 10-5. That was followed by another Sunnyside decision in the 130-lb. match, when Emmanuel Tejeda decisioned Nick Garcia 9-2.
The rout continued with Sunnyside's Josh Romero (135 lbs.) scoring a major decision against Michael Elizando, 14-5.
Shawn Olivarez (140 lbs.) then scored a decision over Pasco's Levi Burgess 13-5.
The Grizzlies then scored two pins against the reeling Bulldogs.
Baltazar Avalos (145 lbs.) pinned Daniel Ramirez in 3:40 and Leroy Rodelo pinned Raul Sital in 1:44.
Paulus said Avalos was up 7-0 at the time of his pin and Rodelo was up 8-0.
Up 49-6, Sunnyside's Caleb Gomez got the Grizzlies' last win of the night when he beat Hector Jiminez 9-3.
Pasco won the last match of the night when Mario Cavales scored a major decision over Juan Galindo, 14-3.
"We had a very good performance," Paulus said of his team's win last night.
Sunnyside (1-1) will travel to Fife today to participate in a tournament there tomorrow (Saturday).
Sunnyside will be back at home Thursday, Dec. 18, when the Grizzlies host a double-dual meet against Walla Walla and Hanford.