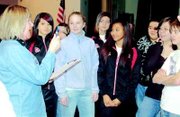 Pregnancy out of wedlock and royalty named Sextimus and Studley are part of the "Once Upon a Mattress" story line that will be presented by Sunnyside High School drama students in February 2009.
The musical comedy is a campy take on the fairy tale "Princess and the Pea."
"Mattress" is perhaps best known for the fact that a Broadway production of the musical during the 1950s helped launch Carol Burnett's career.
The musical will be directed by drama teacher Corey Murphy, and he said he selected it because of his students' comedic talents.
"We have a lot of students who are very good at comedy," he said. "It's so much fun to show their comedic talents."
Murphy said the musical is for families, but cautioned there are elements such as the pregnancy and names of some of the characters that he says would have been considered adult humor in the 1950s. Today, he says, the show is a "corny look at the fairy tale."
Murphy says he's not sure yet how the stack of mattresses will be presented on stage, as in the fairy tale and musical the would-be princess must be able to feel a pea through several layers of mattresses.
Lainey Rodriguez will play the part of Winnifred, made famous by Burnett, while Crystal Rivera will play Lady Larkin.
Others slotted for roles in the play include Jesenia Rodriguez as Queen Aggravain, Hank Tramel as Prince Dauntless, Nathan Whitis as Prince Sextimus, Adam Cleghorn as Sir Harry, Kurt Furan as a minstrel, Rene Furan as a jester, Emily Slinker as the Wizard and Jennifer Crane in the roles of Princess #12 and Nightengale.
Other Sunnyside High School students to be featured include Tassie Hammond as Lady Rowena, Hailey Moore as Lady Lucille, Ashleigh Emery as Lady Merrill, Anique Fernandez as Lady H and Rica Parramore as Lady Mabelle.
Several students will portray ladies in waiting; they are Yesenia Blanco, Abby Gomez, Melissa Chapina, Kimberlee Alaniz, Marlene Manzo, Alyssa Trayan, LeAnn Lopez, Alessandra Nepa, Nellie Padilla, Jaylyn Cervantes, Ariana Romero, Jocelyn Martinez and Sarah Perez.
The role of Sir Studley will be played by Lorenzo Chavez, while Oscar Torres, Matthew Mendez, Giovanni Rodriguez, Sean Johnson, Jorge Pacheco, Mark Hammond and Taylor Schroeder will play knights.
"Once Upon a Mattress" will be performed Feb. 20-21 and 26-28.
All performances will start at 7 p.m. except for the one on Feb. 26, which will start at 6 p.m.