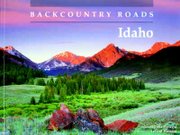 GPS adventurists will appreciate brother and sister duo Lynna and Leland Howard's Backcountry Roads, Idaho, published by Caxton Press.
Lynna Howard authored the book and Leland Howard acted as her photographer, publishing 114 breathtaking photos of some of Idaho's best kept secrets, with its winding backcountry roads.
The duo spent the better part of a year photographing the Gem State, with Lynna Howard taking field notes that often are short poems she created while soaking in the ambiance.
Arm chair travelers will delight in this book, though it appears to me it's more geared for adventurists, especially Jeep enthusiasts.
In many places in the book, Lynna Howard cautions travelers to be vigilant about their levels of experience.
She notes, too, useful advice, like how to behave when coming across a bear.
Her fondness for her home state is evident throughout the book, which strikes a personal cord with me. I was born in Idaho and have been a frequent visitor all of my life.
Prior to each geographical section, Howard gives a brief overview of the area.
When it's time to dig into the meat and potatoes of each expedition area, Howard is careful to break it down into various approach routes.
Then what one sees in the book is a series of GPS coordinates, with a brief description of the area traveled. In the descriptions, Howard alerts the reader to available outdoor recreational opportunities in each area.
Because she's articulate, Howard explains when it's time for the reader to re-set the vehicle odometer to zero. With her driving directions, Howard then describes how many miles it is from point A to point B.
I would recommend this book to buddies who Jeep and those who appreciate books for the coffee table.
I only have one gripe with this book. Each of Idaho's waterfall photos appear to be airbrushed into white, cotton-like falls. Simply put, that's cheating. Idaho's waterfalls are a beauty unto themselves and don't need airbrushing to make them any more appealing.
Backcountry Roads, Idaho is 11 x 8.5 and features 240 full color pages. It can be ordered by visiting www.caxtonpress.com.
Cost of the book is $27.50 and worth every penny to the outdoor enthusiast in your life.
More like this story