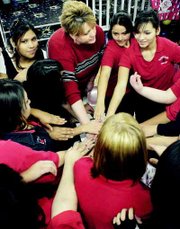 Too much of Holly Wood and Ashley Keller spelled defeat for the Sunnyside High School girls bowling team yesterday.
Wood tossed a pair of 177 games and Keller rolled a match-best 188 in the second contest to power the Selah Vikings to a narrow 3-1 victory over the Lady Grizzlies at Sunnyside's Valley Lanes.
Thursday afternoon's opener went down to the wire, but in the end it was Selah squeaking by, 756-752. Wood threw a team-best 177 in the first game for the Vikings, with teammates Liz Baze and Danielle Erickson adding efforts of 172 and 155, respectively. Keller and Chelsea Miller rounded out the first-game scoring for Selah with identical games of 126.
Sunnyside's first-game performance was spearheaded by Marissa Martin. She tossed a 183, the top individual effort on the day for the Lady Grizzlies. Sunnyside also got a 153 from Maleesha Maltos in the opener, as well as 142 and 141 games from Maritsa Rodriguez and Chelsea Sambrano, respectively. Rounding out the first-game team score for the Lady Grizzlies was Ileana Martinez's 133.
Selah expanded its margin of victory from four pins in the opener to 96 pins in the second contest, winning 737-641. Keller and Wood were the workhorses for the Vikings in that game, recording individual totals of 188 and 177, respectively.
For Sunnyside in the second contest, Martinez turned in the top game, rolling a 163. The Lady Grizzlies also got 124 and 123 efforts from Maltos and Rodriguez, with Martin and Sambrano shooting 116 and 115.
The Lady Grizzlies' lone win Thursday came in the first of two Baker games, a 200-127 decision. Baker bowling calls for each member of the five-girl squad to alternate taking turns throughout the 10 frames.
Any hopes for a Sunnyside comeback went by the wayside in the closing Baker game, as Selah prevailed 156-144.
Yesterday's loss dropped the Lady Grizzlies to 0-5 on the season.
In JV action Thursday afternoon, Selah won by a 3-1 score. Sunnyside's only victory came in the opener, a 579-561 decision. Nataly Alvarez and Abi Bravo had the top efforts for the Sunnyside JV in the opening contest with games of 126 and 125, respectively.