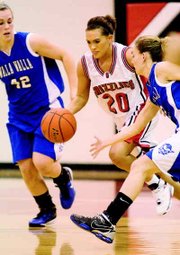 Poor field goal shooting on the part of the Sunnyside Lady Grizzlies, coupled with great field goal shooting on Walla Walla's part enabled the Blue Devils to walk away with an easy 81-28 victory this past Friday night against the Sunnyside High School girls basketball team.
The Lady Grizzlies managed just 11-for-39 shooting from the floor. On the Blue Devils side, Walla Walla shot 50 percent, going 35-for-70.
"We didn't have a lot of shot opportunities," Sunnyside coach Eric Berg said. "We were turning the ball over too much. If we did get the ball past half court then our shots weren't falling."
Berg said the Blue Devils were very quick and much more physical than the Lady Grizzlies.
"Their pressure was awesome," he added. "They were faster than us. They never stopped moving."
The quicker Blue Devils jumped out to a 6-0 lead early in the first quarter on their way to a 25-4 lead after one quarter. Walla Walla then used a second quarter run to lead the Lady Grizzlies 43-15 at halftime.
Hope Klicker did a lot of damage to Sunnyside, Berg said. The Walla Walla player had 22 points, including three 3-point shots.
"She's a good, physical basketball player," Berg added.
Berg said the Blue Devils had a very deep bench that had freshman Jaime Weisner on it. She added 20 points to the Blue Devil attack.
"She was a stud for them," he said.
Walla Walla continued to subdue any Grizzly attack in the second half with an aggressive man-to-man style of play. Berg said not only was the Walla Walla offense hitting lay-ups, but they were knocking down outside shots as well.
The Blue Devils outscored Sunnyside 23-6 in the third quarter and 13-7 in the fourth.
"We need to be more aggressive offensively," Berg said. "Walla Walla's aggressiveness on defense definitely hindered us in that department."
Samantha Wright led the Grizzlies with six points. She was followed by Toni Castillo and Tyler Megan with five points each. Destiny Maya and Katie Wutzke each added four points.
"We need to work on our defense," Berg said. "We just need to stay focused and keep our heads up."
Sunnyside (1-2) will travel to Yakima Friday, Dec. 19, for a 7:30 p.m. game with the Davis Pirates.