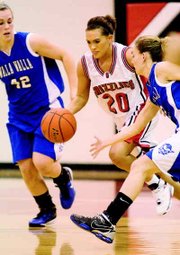 MABTON - Mabton Grace Brethren Church and Iglesia Evangelica de Los Hermanos banded together with the Sunnyside Wal-Mart store this past weekend to deliver a bevy of food to 50 needy Mabton families.
Because of the giving by Wal-Mart associates, Grace Brethren Pastor Paul Guay said, "This is the biggest year we've ever had."
Before church volunteers rolled out on Saturday morning, church member Maurice Riley could be heard saying, "The whole idea is to be praying and out there serving the people!"
Wal-Mart store manager Jake Federwisch was on hand, too. In addition to tremendous amounts of food and household supplies being donated to the families, associates chipped in for store gift cards as well.
Guay said it's his 11th year serving in the community. "I've seen the families, I've seen the little boys and girls with no one at home because their families are out working the fields. I've seen the little boys and girls walking to school without coats on in the dead of winter."
When Guay relayed his story to Sunnyside Wal-Mart associates, their eyes filled with tears, he said.
In the past, the churches have helped as many as 20 needy families. This year, they were able to bump it up to 50.
It wasn't unusual to see 25 lb. bags of staples like maza and rice heading out the doors this past Saturday.
"The idea is to get them through winter," Guay said.