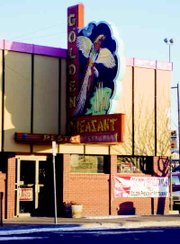 Sunnyside's historic Golden Pheasant restaurant is officially up for sale.
The downtown restaurant on Edison Avenue was built in 1952. At the time, current owner Sing Wang Louie ventured into co-ownership with Leo Yee and Wayne Chin after finding success operating the Golden Wheel restaurant in Yakima. In 1990, Louie and his wife, Marina, and his son, Kyle, became sole owners of the restaurant.
Kyle Louie said the building burnt down in the early 1970's, but was soon rebuilt and back in business. "It's been going since then," he said.
Kyle Louie said his parents would like to retire now, hence the sale of the building.
For the younger Louie, the future remains a little uncertain. But, he said, "We'll still be staying in Sunnyside." After all, he has raised his family here, which consists of wife Mei and two teenage children, Anthony and Christina.
Louie literally grew up in the restaurant and said it's nostalgic and sad to see it up for sale.
His hope? "(For someone) to continue the restaurant. Keep it a family business and keep it going."
The restaurant is currently listed by ReMax and has an asking price of $365,000.