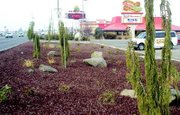 Yellow Rose Nursery workers from Prosser were found toiling away at Mid-Valley Mall in Sunnyside a few weeks ago, giving the mall an aesthetic face lift, so to speak.
"We renovated the existing landscape, which was some ancient, monstrous junipers and opened it up, making a landscape that will lead your eyes to the mall," said Yellow Rose Nursery owner Lou Gannon.
Gannon added several different eye catching flora and fauna, including 60 roses, weeping sequoias, a green arrow Alaskan Cedar and one weeping Lebanon cedar, as well as lavender and daisies for perennial color and burning bushes that will delight in the fall. Large basalt rocks were added, too.
Gannon said the variety should make "all seasons colorful and interesting."
Gannon said late autumn was the right time to do the work. "The ground isn't frozen. Once the plant roots are in the ground, the temperature of the earth is warm, about 50 degrees. It keeps the roots safe and protected."
Mid-Valley Mall Manager Greg Meshke said, "It's going to look beautiful in the spring. It will beautify the mall and Sunnyside."