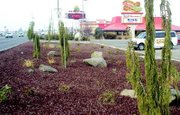 GRANGER - A Days Inn motel is in the works for Granger.
Paul Sohi of Sunnyside, who owns the recently built Granger Travel Plaza located near I-82, exit 58, said he plans to build the motel on another portion of the 21 acres he owns near the freeway interchange.
"I tried to get a Comfort Inn but there's one already in Zillah," Sohi said. Days Inn, though, will suit his plans to have a motel with room rates in what he calls "the middle range," about $59 per night.
Sohi said he doesn't have a timeline for when he'll start construction, but wants to begin as soon as he can.
That includes going back to Yakima County's SIED Board (Supporting Investments in Economic Diversification) for a grant/loan package to help pay for road and utility work.
Just over two years ago the city of Granger received a $500,000 package from SIED to fund road, water and sewer improvements in the area of Bailey and Cherry Hill roads to accommodate the truck stop.
Sohi says a second package will be needed for additional infrastructure to serve the motel.
The travel plaza, which opened in August, is alone expected to generate $125,000 in annual sales tax revenue for the city of Granger. It's estimated that the site will employ 40 workers once it is fully built out.
Sohi said he's spoken with SIED officials and said the agency is asking to see the plans.
He says the motel is a logical extension of the business already developed at the travel plaza.
"If you notice, any truck stop has a restaurant and a motel," he said. "I've already got the (Days Inn) franchise."
Business is going well so far, he said.
"We're doing all right, a lot of trucks stop in the night time," he said.
Part of the planning stage now for the Days Inn, Sohi added, is to figure out just how many people it can hold during the night time.
"We're working on plans for 63 or 75 rooms," he said.