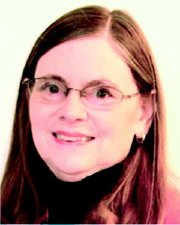 Mary Stephenson is the new chair of the Yakima County Dem-ocratic Central Committee, having recently been elected by precinct committee officers at the party's biennial reorganization meeting.
Stephenson, a retired college administrator and former court administrator for Thurston and Mason counties, succeeds Paul George for the 2009-2011 term. George was elected State commit-teeman.
Also elected during the meeting were Ryan Booth, 1st vice-chairman; Dany Adolf of Wapato, 2nd vice-chairman; and Eleanor Hungate, state commit-teewoman.
Yakima attorney Aaron Case was elected to a two-year term as chair of the 14th Legislative Dis-trict Committee at its biennial reorganization meeting that fol-lowed the county election in Carpenters Hall.
Case, who represented the 4th Congressional District as a dele-gate to the Democratic National Convention in Denver, Colo. in August, succeeds Leslie Wahl, who won election as State com-mitteewoman.
Also at the meeting, the com-mittee approved plans for an inaugural celebration breakfast, Tuesday, Jan. 20, in Yakima at the Howard Johnson Plaza Hotel, Ninth Street and East Yakima Avenue
The breakfast buffet will open at 8 a.m. to be followed at 9 a.m. by the swearing-in of President Barack Obama, then his inaugural address and the traditional pa-rade, all on big screen TV. The event will end at noon.