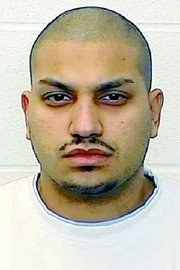 YAKIMA - A 23-year-old Sunnyside man was sentenced to nearly 47 years in prison yesterday, Monday, in Yakima County Superior Court.
Judge Michael Schwab sentenced Jorge Ariel Saenz to 441 months for two first degree assaults a jury convicted Saenz of this past summer. He also received an additional 120 months for using a firearm.
Schwab also sentenced Saenz to 60 months in prison on a third charge, unlawful possession of a firearm. This sentence is to run concurrently.
Saenz, a known gang member, was convicted on the charges for his role in a Jan. 10, 2008 shooting in which he opened fire in front of the Sunnyside Ace Hardware store against two individuals of an opposing gang, hitting one.
Saenz was arrested a few days after the shooting and charged with first degree assault and unlawful possession of a firearm.
David Guillen, a 19-year-old Sunnyside resident at the time, was also arrested as an accomplice to the assault. It was Guillen who was driving the vehicle Saenz was in during the shooting.
Guillen later pled guilty to one count of second degree assault and agreed to testify against Saenz. Guillen was sentenced to seven months in jail for his role.
Yakima County Special Prosecutor Robert Northcott said 561 months in prison for Saenz is probably close enough to a life sentence, although he wanted Saenz to actually be sentenced to life without parole under the state's three strikes law. Saenz had previously been convicted of second degree assault in Yakima County right after he became an adult and also has a second degree assault conviction from 2001 in Lewis County when Saenz was just 15-years-old.
Northcott argued that Saenz had waived his right to decline to be charged as an adult in Lewis County so that conviction should be counted as his first strike. Schwab, however, ruled that Saenz hadn't been given his due process in the 2001 conviction and didn't count that assault as his first strike.
"I respect his opinion," Northcott said of Schwab. "I just don't agree with it. As far as I'm concerned he had two prior serious offenses as an adult."
Northcott said on the offender level sentencing chart Saenz was given a number of 10.8. The chart tops out at 9.
"He went off the charts," Northcott said.
Northcott added that Saenz has spent most of his life behind bars since he was 13-years-old.