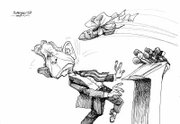 Oh to be George W. Bush, that must be fun, huh?
W. got a taste of what he can expect from the rest of the world when he was in Iraq earlier this week. Our president was giving a joint press conference with Iraqi Prime Minister Nuri al-Maliki. During the press conference an Iraqi journalist, Muntadhar al-Zeidi, took off his shoes and threw them at Bush.
Now I think that's pretty funny but my humor is not shared by some Fox News pundits. Some just can't understand why anyone would want to do that.
Well, let's see. According to media reports, al-Zeidi shouted to Bush that he killed Iraqis. Several websites list the number of Iraqi civilians killed since the 2003 invasion. Iraqbodycount.com lists between 89,881 and 98,133 civilians killed in the war. According to Michael Moore's website, 151,000 civilians have been killed. No matter whom you believe, either number is very high.
Bush could sit down with al-Zeidi, who reportedly now sports a broken arm and ribs, and explain to him that the illegal invasion was actually good for al-Zeidi, but I doubt he would understand or even want to listen. Bush to him is evil and throwing his shoes at him was his personal protest.
One funny side note, though. Jay Leno on Monday night asked what the secret service guys were doing. His question was why they couldn't have protected Bush from at least the second shoe that was thrown. I think that's a pretty good question.
But this wasn't really that big of a deal. The projectiles were shoes, for crying out loud, not grenades.
But this al-Zeidi guy is now in police custody with some pretty painful wounds. Around Iraq his cause has been taken up by thousands who are protesting his detainment. Is this really worth it?
Even Bush says the guy should be released and said he never felt endangered. The situation in Iraq is better than ever but it is still a powder keg waiting to be lit. Do we want some joker who threw his shoes at W. to be the match?
So let's all call for the release of al-Zeidi, a hero in the Arab world. And let us also remind our beloved lame-duck president that his unpopularity is real and he would be wise to remember that when venturing to foreign countries.