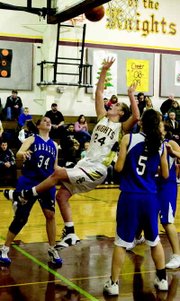 Despite committing too many turnovers in the first half, 18 to be exact, and only scoring four points in the third quarter, the Sunnyside Christian High School girls basketball team turned away the visiting LaSalle Lightning last night, 40-36.
Seniors Melanie Van Wingerden and Abby Bangs, as well as junior Hilari Bosma, were the catalysts for the Lady Knights Tuesday evening. The 5'10" Van Wingerden recorded a double-double by popping in a game-high 14 points and leading all rebounders with 15 boards. The diminutive 5'2" Bangs chipped in an eight-point performance for the winners, and Bosma, the team's second leading scorer this season, added a 12-point effort.
The lone LaSalle player to score in double figures was Savannah Bonny. She lit up the scoreboard for 12 points.
The Lady Knights limited LaSalle to single-digit scoring in each of the four quarters, nine points each period.
Sunnyside Christian, now at 3-1 on the season with one more non-league game remaining before jumping into conference play on Jan. 9, built a 25-18 first half lead on the Lightning. LaSalle fought back after intermission, however, pulling to within two by outscoring the Lady Knights 9-4 in the third period.
Sunnyside Christian Coach Al Smeenk said LaSalle's quickness and troubling defensive tactics made it difficult for his players to score after halftime.
"We didn't get very many looks at the basket in the third quarter," he said, crediting the Lightning's full-court press and effective traps in limiting his team to 2-of-9 shooting from the field in the third period.
The Lady Knights rallied down the stretch, though, putting together an 11-9 run in the final quarter to eke out the four-point margin of victory.
Sunnyside Christian did a much better job of protecting the ball in the second half, cutting its turnovers down from 18 in the first two periods to just seven after intermission.
"We had to slow things down, stay under control," said Smeenk. "The first half we were going too fast."
On the boards last night it was nearly a wash, as the Lady Knights came away with 37 rebounds to the 36 LaSalle snatched. The Van Wingerden sisters, Melanie and Joleen, combined for 24 of Sunnyside Christian's 37 rebounds.
For the game, the Lady Knights shot at a 40 percent clip from the field (16-for-40). That included going 2-for-2 from behind the 3-point arc. Bosma hit both of the long range bombs for Sunnyside Christian.
Neither club shot particularly well from the charity stripe. Sunnyside Christian made 6-of-12 free throws, LaSalle sank 5-of-16 attempts.
In addition to the 34 points tossed in by Van Wingerden, Bosma and Bangs, Sunnyside Christian got four points from Kelly Newhouse and two from Julie Long.
Sunnyside Christian is scheduled to play at Wellpinit this coming Friday.