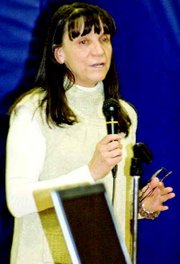 MABTON - Parents of Mabton elementary school students braved the winter chill last night, Wednesday, to trek to the school and learn about the dual language program.
The dual language program would combine students in one classroom who are taught in two different languages. Many Mabton students come from Spanish speaking homes.
This program, if implemented, would try to blend mono-lingual students, with half of the students Spanish speaking and the other half English speaking.
That's according to Josh Barbosa, the school district's home liaison, who was on hand last night in assisting Nohemi Soto de Marquez. De Marquez teaches dual language programs at Harrison Middle School in Sunnyside.
Barbosa said that there are some benefits to implementing a dual language program, one of which is that bilingual high school and college graduates are paid more. He also said de Marquez told parents that if a student comes from a mono-lingual Spanish speaking home, communication isn't lost when that student becomes proficient in English.
Barbosa said last night's meeting was intended to let parents know implementing such a program is under consideration, as well as to let them know what the dual language program is all about.