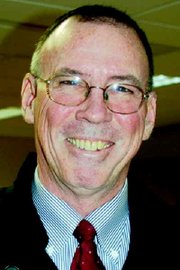 YAKIMA - Former Klickitat County Prosecutor James Hagarty was selected yesterday, Tuesday, to fill the same role for Yakima County.
County commissioners appointed Hagarty, who has 19 years experience as a prosecutor, to replace Ron Zirkle after he retires at the end of this year.
"Jim brings new eyes with resolve," Commissioner Mike Leita said of Hagarty.
Commissioner Rand Elliott, who represents an area that includes the Lower Valley, said Hagarty has a "willingness to do whatever it takes" to work with law enforcement.
Hagarty said as much following his appointment yesterday morning. "Law enforcement knows I make the decision (in regards to the disposition of cases), but I take input from them."
Noting the county courts have a backload in excess of 1,000 cases, Hagarty pledged to work with a new system judges will implement next year to streamline the way cases are handled.
During budget discussions for 2009 just last month, Zirkle said he would not need to lay off any employees in a year in which the county expects to let go 30 workers. At the same time, Zirkle indicated that whoever takes over the job will have to cut jobs and make tough decisions on which cases to try.
It's official now that Hagarty will be the one taking over the job in January, and he admitted job cuts in his department may be inevitable.
"That's the reality of the situation," he said.
Even so, he committed that in 2009 his department will look to pursue every crime or "at least get a consequence for the action."
Hagarty indicated yesterday that he will seek election to the prosecutor's post next November.