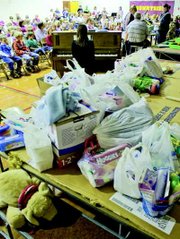 Sunnyside Christian Elementary School students are getting a lesson in Giving 101 this holiday season with a community service project aimed at bolstering families involved with Life Options in Grandview.
According to teacher Stephanie Greydanus, students have been bringing in diapers, baby clothes, baby gifts and monetary donations that will be used to buy larger items, like strollers and car seats.
"It's our Christmas service project," she explained.
She added that the students are excited about their crash course in giving. "(They're excited because) they get to go shopping for other people."
Life Options Director Jan McDonald was on hand at the school this morning to accept the gifts on behalf of the agency.
According to Gina Tyhuis, who works with McDonald at Life Options, the items will be placed in the organization's Acorns to Oaks shop. Parents who participate in programs like parenting classes can earn "bonus bucks" and purchase items at Acorns to Oaks.
Said Tyhuis, "When they called me (about the donations) it was very exciting to me that the kids were wanting to try to do this for other families."