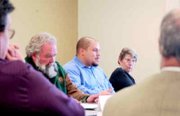 The public works stimulus package proposed by President-Elect President Barack Obama is rumored to top $850 billion.
A group of Yakima Valley residents met yesterday, Thursday, concerned this area may be overlooked when the money is doled out.
The group, called DRYVE for Driving Rural Yakima Valley's Economy, numbered about 20 people and met in the Sunnyside Community Center for the two-hour session.
A representative from Sen. Maria Cantwell's office, David Reeploeg, told the group that Obama's package is intended to fund projects that are ready to roll within 90 days.
Sunnyside City Manager Eric Swansen told Reeploeg he's concerned that the quick roll-out needed for the project means that smaller communities, like the Yakima Valley, will be missed entirely while larger cities with more resources will benefit. "The rich will get richer," he said.
Swansen said Sunnyside and other smaller communities don't have the funds on hand to do the ground work, such as meeting environmental regulations, to have projects up and running so soon.
He called for flexibility in federal guidelines and regulations for the public projects so that budget strapped rural cities can participate.
Jack Burnes with the city of Granger suggested that seal-coating projects or fixing existing streets might be a quick way to access the money because there are fewer environmental restrictions.
"I think we can all think of streets right away that need to be fixed," said Gary Potter, public works director for the city of Wapato
Potter suggested to Reeploeg that the Obama money not be doled out in 90 days, but rather phased in to allow smaller, rural communities a chance to catch up. "Otherwise this will pass us by," he said.
Potter's call for some money now and some later was echoed by Gary Eckstedt, Yakima County's road engineer.
Eckstedt said if all the money is poured in now to several projects at the same time it will create a shortage of raw materials. Noting the stimulus is intended to create jobs, Eckstedt said there could actually be a shortage of manpower and of equipment to meet the demand for so many projects.
"It's not like the 1930s when you could just pull guys off the street and give them a shovel," he said of the expertise needed to operate today's machinery.
Reeploeg, who works out of Cantwell's Tri-Cities office, said he would relay the message of flexibility and phasing in of funds to Washington D.C.
He also pledged to assist in setting up phone calls with national leaders in advance of DRYVE's trip to D.C. in February 2009.