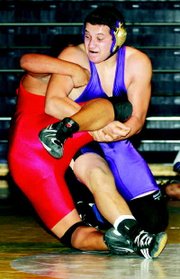 MABTON - "I'm befuddled," Viking wrestling coach John Kilian said of last night's (Thursday) 48-27 loss to the Granger Spartans.
He was frustrated that his team fared well this past Saturday in Granger only to suffer such a loss. "We didn't look so good last night...it was odd...maybe it is the pressure of being at home," he surmised.
Kilian was especially dumbfounded with the performance from Mabton's Luis Aviles (125 lbs.), who pinned Carlos DeLeon of Granger at the Iron Man this past Saturday but lost a 9-8 decision to the same grappler last night.
"Carlos evidently was ready to wrestle last night," he commented.
The night did, however, begin with some good bouts. Kilian said things were looking good for the Vikings when Angelo Salinas earned a win in the first match-up against Granger. Salinas earned a 4-3 decision over Spartan Humberto Morales in the 171-lb. weight class, improving Salinas' season record to 11-0.
Sal Lopez (189 lbs.) next took to the mat for the Vikings. He pinned Abraham Guaderrama of Granger in 1:18.
Kilian was pleased with that performance and said, "Sal's been working all week to make weight, figured it out and had a fun bout."
The excitement was short-lived as the first loss for the Vikings came at the hands of Granger's Pete Almaguer (215 lbs.). He pinned Mabton's Damien Marquez in 46 seconds.
At 103 lbs., Mabton's Jerry Quesada suffered the second Viking loss of the night. Elias Ramirez of the Spartans earned an 11-10 decicion over Quesada "...much to my chagrin," said Kilian.
He said, "It appeared Quesada ran out of gas."
Mabton's Danny Magallon (119 lbs.) was pinned by Spartan Joe Salcedo in 39 seconds in the next bout.
Later, the Vikings lost the 130-lb. weight class when Eric Meza was pinned in 2:51 by Sammy Salcedo.
"Sammy is very good...he was the third place finisher at State last year," said Kilian, adding Meza faced another challenge, wearing a face mask to protect his broken nose.
"But, we've gotta stop getting pinned," he stated.
The Vikings received hope in the 135-lb. weight class, with a pin by Arturo Nunez. Nunez dropped Granger's Carlos Hernandez in 3:08.
Andy Rivera (140 lbs.) took to the mat for Mabton next. He pinned Granger's Ernesto Martinez in 3:18.
"We were feeling good," said Kilian.
Viking Frank Martinez (145 lbs.) began his bout against Granger's Emmanuel Ramirez up 4-1 in the first round. But, ended it with disappointment when he was pinned in 3:20.
The final blow came in the 152-lb. match-up between Mabton's Alonzo Garcia, who moved up a weight class, and Spartan Jaime Martinez. "Alonzo was in over his head," said Kilian, stating the freshman has been gaining experience this season, but was pinned in a minute flat.
"We'll re-group and keep working on things...some team members need to get healthy," he stated, saying he was going to give his Vikings some time off but now the Vikes will continue practicing.
The Vikings hit the mat again on Tuesday, Dec. 30, in Lake Roosevelt.