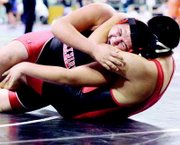 YAKIMA - The Sunnyside High School wrestling team took sixth place honors at the SunDome Invite this past Saturday.
A total of 28 teams were scheduled to compete at the wrestling tournament but due to inclement weather only 16 teams were able to make it.
The Grizzlies fielded three champions at the tournament, starting with Christian Reyes (103 lbs.). Reyes went 4-0 at the tournament, which started with a first round bye.
In the quarterfinals he scored a technical fall against Wenatchee's Tyler Gustafson, 30-13. In the semi-finals Reyes pinned Eisenhower's Jesse Martinez in 2:36. He was ahead on points against Martinez 15-5 at the time of the pin. This set up a final against Armando Hernandez of Toppenish, which Reyes easily won 9-1.
"This was the best match I've seen Christian wrestle," Sunnyside Coach George Paulus said of the final. "He looked real good. Christian just tore him up."
Steven Romero (112 lbs.) was Sunnyside's next champion on the day. Romero went 4-0 to bring his season record to an unblemished 15-0.
After getting a first round bye Romero beat Jose Lopez of Chelan 21-6. He then beat Konner Hopkins of East Valley (Yakima) 15-1 to set up a final against Davis High School's Courtney Nalley, beating him 6-0.
"The Nalley kid wasn't even close," Paulus said.
Sunnyside's third champion at the SunDome Invite was Shawn Olivarez (135 lbs.), who also went 4-0 on the day.
Olivarez beat Austin Roelle of Wenatchee 12-3 in the first round and then pinned Mike Stiltner of Eisenhower in 1:42. After creaming Davis High School's Roy Cardenas 9-1 in the semi-finals Olivarez wrestled Reese Hunter of West Valley (Yakima) in the finals.
This was a close match as both wrestlers were tied 5-5 with just 10 seconds to go in the match when Olivarez scored a takedown for the win.
"It was just as we planned it," Paulus joked.
Earning second place honors for the Grizzlies was David Huizer, a transfer student from Prosser. Huizer wrestled his first matches of the season this past weekend, going 3-1 at the tournament.
Huizer cruised through the field on his way to the finals, getting pins against West Valley's (Yakima) Nester Gonzalez and Chelan's Rudy Barrios in the first two rounds. He beat Wentachee's Brain Nygard 23-10 in the semi-finals to set up the championship match against Kennewick's Jack Loomis.
Early in the match Huizer got dropped on his head and Paulus said he just wasn't the same after that.
"It kind of shook him up," he added.
Loomis pinned Huizer in 3:20.
Other Grizzly wrestlers placing at the tournament were Nathan Gonzalez (103 lbs.), who earned a fifth place finish, and Jorge Chavez (285 lbs.), who finished in sixth. Both Isaac Meza (125 lbs.) and Emmanuel Tejeda (130 lbs.) placed eighth.
Despite the sixth place finish Paulus wasn't happy with his team's effort.
"We've got to light a fire under our people," he said. "We had too many weight classes go blank. That will be our focus over the next couple of weeks. We definitely got some work to do and that starts tomorrow (Monday).
Paulus said his team was in a funk after losing four starters from the team due to disciplinary reasons.
"We need to look at the situation and figure out how to regroup," he said. "The season isn't over."
Sunnyside will next wrestle at the Hanford Winter Cup Tuesday, Dec. 30.