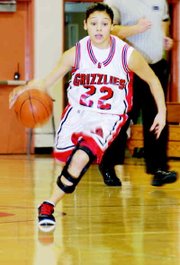 The Sunnyside High School girls basketball team played two conference games this past weekend, losing to Davis High School on Friday night and then to Moses Lake at home on Saturday.
Sunnyside Coach Eric Berg said his team played a great game against Davis, which was a lot of fun to be a part of.
"The game was full of ups and downs and a lot of lead changes," Berg said of the Grizzlies' 57-50 loss. "The girls had a blast."
Sunnyside led 11-8 after one quarter but Davis fought back to take a one-point lead at halftime, 25-24. The Grizzlies then fought back to retake the lead at the end of the third quarter, 38-37.
Sunnyside was up by four points at the end of the third quarter but a Davis player nailed a half court shot to cut the Grizzly lead to one point.
"That kind of gave them the momentum to start the fourth," Berg added.
In that quarter Davis freshman Katelyn Kaluzney scored seven of her team high 16 points to help the Pirates outscore the Grizzlies 20-12 in the final period. She hit a couple of big three point shots and some key free throws down the stretch.
That ruined a great night by Sunnyside's Katie Wutzke, who exploded for 29 points in the game.
"She found her shot that night," Berg said of Wutzke. "It was a great night for her. Hopefully she can carry on for the remainder of the season."
Wutzke was 5-of-10 from the floor and 12-for-13 from the free throw line.
Sunnyside's Megan Tyler was forced to sit most of the game due to foul trouble and Samantha Wright had to leave in the third quarter due to thigh injury. Destiny Maya fouled out for Sunnyside in the fourth quarter.
After Wutzke, Sarasa Partida scored seven points for Sunnyside. She was followed by Tyler with five points. Maya and Toni Castillo scored four points each.
On Saturday night Sunnyside hosted Moses Lake, losing 82-37 to the Chiefs.
"We spent a lot of energy and emotion in Friday's game and we could have either rode the wave or have a letdown," Berg said of Saturday's performance.
Unfortunately, the Lady Grizzlies had a letdown.
Wright was limited in her playing time due to her thigh injury and Wutzke eventually had to leave the game with a mild concussion after taking a charge in the first quarter that sent her crashing to the floor.
As a testament to the drive and determination of Wutzke, Berg said the Grizzly player kept fighting for another quarter and a half before taking herself out.
The Chiefs jumped to a 23-9 lead after the first quarter and never looked back. The Grizzlies were outscored 19-8 in the second quarter and 24-8 in the third period before holding their own in the fourth, only being outscored 16-12 in that period.
Moses Lake was led by all-state player Carly Noyles with 18 points. Noyles and teammate Jordan Loera gave the Grizzlies trouble all night.
Berg said Noyles is 6'5" tall and his tallest player is only 5'8". She is heading to play Division I basketball for WSU next year.
Tyler led Sunnyside in Saturday's game with 10 points. She was followed by Maya with six. Partida and Castillo each added five points.
Loera had 14 points for Moses Lake.
"I was happy with our effort in the second half," Berg said. "We played better even though the score doesn't show it."
Sunnyside (0-2, 1-5) now has almost two weeks off before their next game against West Valley, Saturday, Jan. 3.