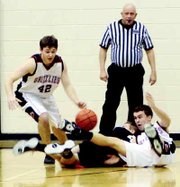 The Sunnyside Grizzly boys basketball team started strong and ended fast in claiming a pair of league wins this past weekend.
On Friday Sunnyside hosted Davis and built on a 20-11 first quarter lead for a 70-57 win over the Pirates.
"I think we were able to get a quick jump on them and shot fairly well in the first quarter," said Sunnyside Coach Ron Rowe. Alfredo DeLaBarrera tallied 12 of his game-high 24 points in the opening stanza to lead the charge.
Another key to the quick start was rebounding, as Sunnyside claimed five offensive caroms in the first quarter and for the contest outboarded Davis 41-18, led by nine from DeLaBarrera and seven rebounds by Pedro Vargas.
Sunnyside gradually built the advantage from there, leading 38-27 at the half and going up by as much as 18 points midway through the third quarter. Davis tried to answer but got no closer than 12 points.
"We played real solid defense throughout the ball game," Rowe said of fending off the Pirates. "We ran our offensive sets fairly well and did a good job of staying patient."
Israel Manzo added 11 points to aid the Sunnyside cause, while Les Henderson led Davis with 20 points.
Sunnyside flipped the script Saturday night, overcoming a double-digit deficit at Moses Lake to rally for a 60-54 win. The Grizzlies led by one after one quarter 14-13, only to see Moses Lake surge to a 33-24 lead at the half and a 12-point advantage midway through the third quarter.
"They shot fairly well in that second quarter and we let them get away from us and get some putbacks," Rowe said. Moses Lake's Josh Lorea averages about 30 points a game and scored 13 in the first half.
Sunnyside finally found an answer late in the third stanza, overcoming that 12-point deficit to tie it up heading into the fourth and final quarter. Sunnyside switched defenses, alternating between a man to man defense and a zone to hold Lorea to just three points in the second half.
The Grizzlies also made some changes on offense during the second half run.
"We changed up on offense sets and did a couple of different things at half court," said Rowe.
Matt Johnson responded with seven points for Sunnyside in the pivotal fourth quarter that saw the Grizzlies take a five-point lead with three minutes to play and hold on from there. Manzo added five points in the stanza. Manzo and Johnston combined to hit four key free throws down the stretch to ice the win and the weekend sweep.
DeLaBarrera scored 15 points to lead Sunnyside, while Manzo added 12. Tristan Abbott led Sunnyside in the paint with 10 rebounds to help the Grizzlies to a 32-to-25 rebounding advantage.
Sunnyside (2-0, 4-2) is off until Saturday, Jan. 3, when it hosts West Valley.