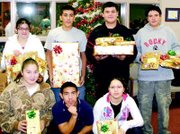 'Tis the season for giving.
That was the mantra of Sunnyside High School students who, with the assistance of staff, took on the daunting task of adopting 17 families this holiday season.
Kelly Story, ASB secretary at the high school, was given a list of 17 families in need provided by the Sunnyside Noon Rotary Club. She then set about finding willing groups within the high school to adopt the families.
"We just put out an email...we didn't have any trouble at all. The families were adopted out quickly," said Story, adding that different advisory teachers and clubs participated in tandem with students. "The students had a choice and they wanted to do it", she said.
"It's a huge joint effort," she said. "They did an amazing job. I couldn't believe how generous everybody was."
Story said that she probably saw about 100 presents. But some presents were delivered by students and their advisors before Story even got a chance to see them.
She said that when the list was provided, it listed the ages and clothing sizes of each person, and some had written down their interests and hobbies.
For girls, Story said the theme was dolls, princesses, and anything Dora (the Explorer). For boys, it was soccer, skateboards, car and bike toys.
"It was nice to see how the kids participated, their generosity," said Story.
"I think it's good for students to know there are people out there they can help, even in a small way. It doesn't have to be huge-every little bit helps.