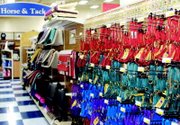 GRANDVIEW - At long last, Bleyhl's highly anticipated Country Store at 940 East Wine Country Road in Grandview opened its doors to holiday shoppers yesterday, Monday.
"It's amazing how busy we've been," said Bleyhl Farm Services General Manager Greg Robertson.
The store's opening marks the completion of phase three in planning for 23 acres purchased by Bleyhl Farm Service.
The first was to install gas pumps and the second was the construction of the main offices on East Country Road. Phase three is a 34,500 square ft. building that includes a warehouse, Bleyhl Country Store and Wine Country Deli, a convenience store.
Robertson said the store opening is a soft opening, the grand opening won't be held until March 6 and 7, 2009.
The country store is open Mondays through Fridays from 8 a.m. to 6 p.m. and on Saturdays from 8 a.m. to 4 p.m.
The convenience store portion of the building will not open until Dec. 29 and its hours will be from 5 a.m. to 11 p.m. daily. The convenience store, which seats 20, will feature fresh deli sandwiches, Johnsonville brats, pizza and chicken.
Bleyhl has shuttered the doors of its downtown store with the opening of the country store.
"We have four times the retail space than we had before," said Bill Nolt, Division Manager, adding that this allowed for additions to stock not previously seen, like truck tool boxes, full men and women's clothing lines and additional hardware. The store even boasts a full line of horse tack and soon, the country store will also have equipment rental.
Nolt said, "My wife experienced it today and said wow, what a change. That pretty much explains it. Come see the change."
A full line of horse tack is available for purchase at Bleyhl Country Store.
&nbsp