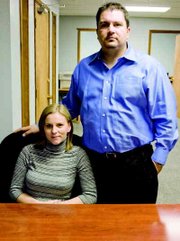 Looking to move home closer to his family, Sunnyside native Jose Salas and his wife, Crystal, opened a debt collection business in town earlier this month.
Called Pride Recovery Services, it is the first such venture for Salas and is located at 505 S. Seventh Street, Suite 201.
After graduating from Sunnyside High School in 1993, Salas said he began working at Financial Management Services as a bill collector. Eventually he moved to Seattle to work for Rent Collect Corporation.
There he built up his skills as a collector and investigator, eventually managing the OFFICE and its 50 employees. Salas was so successful at Rent Collect Corporation that the company began giving him stock options.
Those stock options are now enabling him to start his own business in Sunnyside. And it won't be a heavy handed collection business either.
"We try to help people pay their bills," Salas said. "We understand that times are tough."
Salas knows he's a bill collector but he said he wants to run his business more like a financial consultant more than anything. He said he wants to work with individuals on a case by case basis to help them get their bills paid off.
"We're not here to hurt anyone," he said. "We just want to collect for our clients."
Pride Recovery Services is now licensed to do business statewide and Salas said he hopes to have a national license within the next two years. His goal is to compete with local debt collection agencies in the area.
As of now Pride Recovery Services is looking hire three new employees immediately. Salas said he hopes to eventually build the business to 50 employees.
"It's exciting work, it's challenging," he added.
Pride Recovery Services can be reached at 509-836-5555. The company also has a website with the address www.priderecoveryservices.com.