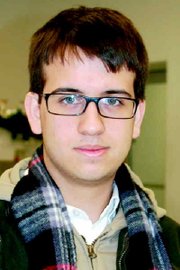 BICKLETON - Two feet of snow, and counting, piled up in the Bickleton area pretty much guarantees Rodolfo Amaral will experience his first white Christmas.
Amaral, 16, is here for a year as an exchange student from Curitiba, Brazil, about 50 miles from the Argentina border
"I like it, it's fun. We don't have snow where I live," Amaral said during a stop this week in the Daily Sun News newsroom as part of a job shadow experience.
He's getting a first-hand taste of the publishing field by getting involved with Bickleton High School's year book program.
Amaral arrived in Bickleton in August and has already gotten a look at the community's trademark bluebirds. Amaral's from a fairly small city and likes Bickleton because "the people are nice."
Amaral's father is an engineer and his mother a pharmacist, but his career interests lie elsewhere. He says he likes to read non-fiction and that has in turn led him to consider a career as a journalist or writer.
Amaral will be in Bickleton through the remainder of the school year before returning to Brazil.
He's enjoying his stay in the states so far and is considering returning to the U.S. after high school to attend college.