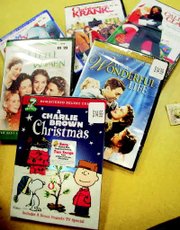 Christmas brings with it a sense of hope each year, as do the movies of the season.
After all, isn't that what the birth of the Christ child and the belief in Santa Claus represent?
There are any number of movies for families to enjoy during the Christmas season. Each of them tell a different story in its own special way. The movie may be about Santa Claus, the spirit of Christmas, the birth of Christ or overcoming adversity to experience the "magic" of a worldwide holiday.
In the end, viewers are left with a feeling of hope, rebirth, inspiration and joy. Some may even experience a special peace that Christmas brings.
I have struggled to nail down a list comprised of my 10 favorite movies. There are a few that came immediately to mind, but to give them a particular numbered order proved even more difficult.
So, my top 10 favorite movies are not listed in order. They are merely movies I enjoy watching over and over again, movies worthy of notice...movies I like snuggling up on the couch with a cup of hot chocolate to watch.
I begin my list with the 1984 version of Charles Dickens' "Christmas Carol." This movie made my list for the fact that it closely matches the author's writing.
George C. Scott is Ebenezer Scrooge, an intolerable character who proclaims "Ba-humbug" at any mention of Christmas. The character has become widely recognized for his grumpy disposition and hatred for the most glorious of holidays.
There are numerous versions of this classic tale in which Scrooge is visited by three spirits, learning to embrace Christmas. Many of the variations include a modern twist. But, the 1984 version is a true classic.
"A Christmas Story," starring Peter Billingsly, is yet another of my favorite Christmas movies with its combination of humor and characters just about anyone can relate with.
I grew up with this young man encouraging me to drink chocolate milk, not Ovaltine.
In "A Christmas Story," Billingsly's Ralphie is just like any other child with a belief in Christmas, dreaming of his heart's desire in spite of adversity.
His tale is one everyone can identify with in one way or another and his father endears himself to the audience because under all the bluster we know he loves his family.
"A Charlie Brown Christmas" is yet another classic. This family-friendly animated tale has been viewed by audiences since 1965.
The message of the movie is of endearing promise. Charlie Brown and the Peanuts gang turn meager belongings into priceless Christmas memories, bringing together those whom they love.
Another family favorite for more than four decades is "Rudolph the Red-Nosed Reindeer."
Inspiration comes from this little reindeer who's "different" from the others. He has captured the love of young and old alike through the popular Christmas carol telling his tale.
But, the animated film brings the beloved character to life and teaches us that being different can be a true gift in itself. That is a message viewers can relate with. We are all unique and we possess gifts that are useful for the greater good of others.
A movie not well-known, but has become dear to me over the last couple of years is "Papa's Angels," starring Scott Bakula.
Set in 1930s Appalacia, Bakula and his family endure great hardship. The movie begins with his wife telling her youngest child the meaning of the Yule log, which is largely important to the family.
She becomes ill with "consumption," tuberculosis, and Bakula struggles to keep her as close by as possible. He builds her a glass room and when tragedy strikes, he becomes lost.
It is through the love of his children and the love of his wife that Bakula's character begins to hope again.
Another little-known movie is "Silent Night." This is a true story set during the Battle of the Bulge and stars Linda Hamilton as a German wife. She and her son travel to the family's mountain cabin as all is lost on the battle front.
It is Christmas 1944 and the pair hosts a few unexpected guests in their cabin. Hamilton's character must divert attention from war to peace as the holy day approaches.
This is a rare look at the hearts of enemies embroiled in World War II. The characters provide a small glimpse into our ability to overcome differences to find commonalities in the name of Christmas.
A cute tale for those wanting to believe in Santa and all he represents is "Once Upon a Christmas."
Kathy Ireland is Kristin Claus, Santa's young daughter. Santa is ready to hang up his hat and hand over the North Pole. He doesn't see the reason to continue his work since the world has chosen to no longer believe in him, but in the commercialism of Christmas.
Kristin sets out to prove there are still many who believe in the true meaning of Christmas, but she is on a deadline and her sister, Rudolfa, is set to foil her mission.
Another fun movie is "Elf." This movie began wooing fans just five years ago.
Will Farrell's portrayal of "Buddy" the lost elf is comedic and provides entertainment for viewers of all ages.
There are heartwarming and sad moments, making one wonder at what it really WOULD be like if one of Santa's elves was left to fend for himself among society.
I find myself transported to believing in the world of Santa and his helpers with this movie. And if you want to feel like a kid again, this is a way in which to do so.
"Christmas Child" is a spiritual movie that follows a journalist seeking his background after learning he is to become a father.
He knows his birthdate is on Christmas Eve and he knows he is adopted. But, the rest of his his story is hidden in mystery.
Jack, the journalist, travels to his birthplace with a mysterious photograph. He meets a number of the townspeople, including Rev. Curtis portrayed by Christian singing artist and writer Steven Curtis Chapman, who now pastors the church in the photograph. The pastor seeks to assist Jack in any way he can, including getting Jack out of jail.
Jack learns the history of the church's nativity is somehow tied to his past and his past is somehow born out of pain and leads to faith.
To complete my list of favorite movies, I cannot leave out "It's a Wonderful Life."
Jimmy Stewart brings home the true meaning of life in this classic film, which is celebrated by audiences of many ages.
George Bailey, Stewart's character, doesn't realize what his life means to others and what it means to him until his guardian angel shows him what his life has meant to others.
Of course, if you have seen this movie, you know the end is a real tear-jerker. If you haven't seen it, you have to check it out. This movie brings joy to even the toughest of hearts.
Beyond my 10 movies, I want to share an anticipated movie for next Christmas.
Karen Kingsbury's "Gideon's Gift" is scheduled to be released in movie format in 2009.
It is the story of an 8-year-old girl suffering from leukemia. She has a spirit like no other and touches a hardened heart through her pure love.
Starring in this movie will be Elle Fanning and Christian Slater.
Slater will portray Earl Gibson, who has committed himself to a life on the streets because he no longer has the will to live.
Fanning's Gideon reaches out to him in spite of his hateful attitude.
Her act of love transforms both their lives just in time for Christmas miracles.