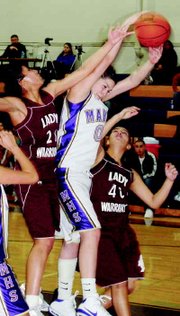 MABTON - The visiting Wahluke Warriors were no match last night against the Lady Vikings, Mabton won going away, 85-33.
"Wahluke, they're in a rebuilding stage," said Mabton Coach Chris McCallum. "They don't have AAU basketball or anything like that so she (the coach) has had to rebuild the program from junior high up."
Last night, he said, "We just ran the whole court all night long."
Last night's game against the Warriors allowed for pretty balanced scoring among the Lady Vikes, with all but one player scoring.
Trishi Williams led the Mabton charge with 22 points. Melissa Gutierrez chipped in 16 points off the bench and Ana Jimenez scored 13 points. Crysta Reynolds notched 11 points and 12 rebounds for the night.
"Slowly but surely she's coming out," McCallum said of Reynolds. "I need her to score 10 to 15 points a game for us and she's getting there."
Brizi Enriquez scored eight points for Mabton and Mia Rochoa and Cassandra Martinez scored three points apiece.
The Lady Vikings (1-0, 6-1) stumbled a little at the free throw line, where they were only 4-for-11.
"That's not going to help our cause any," said McCallum.
Offensively, he said, the Lady Vikings need to get better in their half-court sets.
Mabton has a break from now until Jan.3, when they square off at home against Burbank.