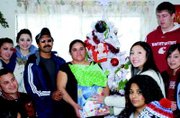 Providing gifts to families in need each Christmas has become a tradition for leadership class students at Sunnyside High School.
According to Jaspar Rubalcava, the purpose of the project is to ensure youngsters in the community have a happy Christmas.
"I have never been in a situation where I went without a Christmas," he said.
Fellow student Janelle Mendoza said she couldn't imagine a year where Christmas was not filled with joy and presents under the tree. Because of that, she and her fellow students seek to provide those who are less fortunate with something to make Christmas memorable.
The leadership class has been working with other agencies to provide joyful Christmases to those in need for the past five years.
Sunnyside High School's Dave Martinez said the project began with a small group of leadership students. Those students asked their classmates to donate gifts for the cause and the same five students set out to deliver gifts to families adopted by the class.
Because the impact on those five students was so great, said Martinez, leadership class members began taking part in delivering the gifts the subsequent year.
"I always had great Christmases," said Rubalcava, stating he believes it would be "terrible" not to have presents to open on the holiday.
Mendoza said she was greatly impacted when she participated in the project last year. "Knowing the stories of those we are helping provides me with a sense that we are really doing something good for the community," she stated.
Both years, she has been among the students to purchase gifts for one particular family.
Mendoza said the family's income has been greatly reduced because the father suffered the loss of his eyesight when he was injured in an industrial accident.
"The family was in tears last year," she stated.
Jasmine Salmeron is participating in the project for the first time this year and said she was greatly impacted by the experience of helping others during the leadership class's Thanksgiving project.
"I can only imagine what the Christmas gifts mean to the families we are helping," she stated.
But the trio said the project is not about them so much as it is about providing for others.
"These people really need whatever we can provide," said Rubalcava, stating he donated Wal-Mart gift cards to a family last year. "I would have used them to buy games or something I really don't need. They could purchase food and other necessities with those cards," he added.
The group also noted they aren't the only ones helping families in need this year. Because the community has a number of families in need, there are advisory groups and other groups within Sunnyside High School who have been busy making sure the community has a Merry Christmas.
Rubalcava said his advisory class worked to provide socks and mittens for families this year.
Salmeron said, "This project has also given us a sense of the true meaning of Christmas...and I am feeling the spirit of the season much sooner." She went on to explain that she typically feels as though it is Christmas on Dec. 25, but giving to others has helped her realize the holiday is not just about "getting" her own gifts on Christmas morning.
The emotional impact of giving to others through the project is shared by the students involved. Each of them selects the gifts they will provide the families and contributes to the project, purchasing the presents themselves.
"What we want people to know is that, as a whole, Sunnyside High School students care about our community," said Mendoza, stating it is one of the many reasons so many students and groups are now becoming more involved in similar projects as the one spearheaded by a select few leadership students five years ago.