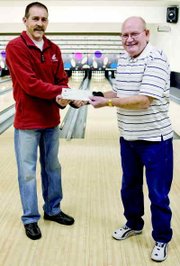 The third perfect bowling game was the charm for Grandview's Bud Haynes as he received a check for $300 this past Monday night at Valley Lanes for bowling a 300 three weeks ago.
Haynes received the check because he was the first bowler to bowl a perfect game at Valley Lanes during the 2008-09 season. The money will come in handy for the 77-year-old man as he plans on splitting it with his wife.
"It will make a good Christmas present for us," he said.
This is Haynes' third sanctioned perfect game but he does have another 300 game he bowled on his own. Haynes rolled one when he was 74 at Valley Lanes, which broke the record for the oldest bowler to bowl a perfect game at the Sunnyside rec center. He broke his own record three weeks ago.
Haynes started getting serious about bowling in 1980 and credits Valley Lanes owner Rob Rice with giving pointers and tips along the way.
"I have to give him a lot of the credit," Haynes said.
It took a while to get his first perfect game, racking up six games with scores of 279 before rolling a 300. He said each time it was the #8 pin that got him in either the seventh, eighth or ninth frame.
He finally got his first game at age 74, rolled another one when he was 75 and his most recent one when he was 76. Haynes had a birthday last week. The 300 game he rolled when he was 75 was accomplished in Hermiston.
Asked if he gets nervous anymore after rolling so many perfect games Haynes said not really.
"Not until it gets to the 12th frame," he added.