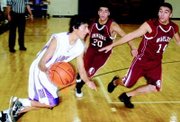 MABTON - The Mabton Viking boys basketball team held visiting Wahluke to single digits in all but one quarter on the way to a 60-40 non-league win last night.
Mabton trailed Tuesday night's game early on 10-5, missing repeated opportunities close-in to the bucket.
But, Frankie Smith sparked a 12-2 first quarter run for Mabton with two treys, his only scoring of the night. J.T. Reynolds got it done inside with a blocked shot to help Mabton to a 17-15 lead after the opening stanza.
The Vikings then reeled off the first 13 points in the second quarter, only to see Wahluke battle back to within single digits, 32-23 at the half.
"We struggled a bit from the field early in the game, but made up for it with our effort on the boards," Mabton Coach Brock Ledgerwood said of the first half turnaround. For the game, Mabton outrebounded the taller Warriors 40-25, including 23 offensive boards. "It is great to get over half of our missed shots back for a second opportunity," the coach said.
Mabton continued the momentum it had held since that first quarter run, outscoring Wahluke 28-17 in the second half. Viking defenders held the Warriors to just nine points in the third quarter and eight tallies in the fourth.
"I was happy with our defense the final three quarters. If we can hold teams to single digits for three quarters a night, we will have a lot of success this year," Ledgerwood said. "We did a better job of keeping the ball in front of us and out of the key. Our defense keyed a lot of scoring opportunities for us on the fast break. We need to continue to get stops on the defensive end to help our offense get easy looks."
Kristian Carrasco led Mabton with a solid all around game, scoring 14 points to go with five assists and four steals. Reynolds shared game-high scoring honors with Carrasco with 14 points and patrolled the paint to the tune of 10 rebounds. Derrick Nash was also in double figures for the Vikes with 10 points.
Manny Rubalcava and Juan Dela Garza paced the Warriors with 14 and nine points, respectively.
Ledgerwood said a key to the win wasn't only the players who showed up well on the stat sheet.
"Sophomore point guard Jesus Huecias had a solid night," he said. "Although he didn't score, he took care of the ball well and led our offense. He was key to our easy fast break baskets."
The coach also praised his reserves for building on Mabton's first half success.
"It was good to see us pull away and win the third and fourth quarters. We have had problems putting teams away, but tonight (Tuesday) we not only maintained when we went to the bench, but we stretched our lead," said Ledgerwood.
Mabton (1-0, 6-1) is now off for the winter break and returns to action at home on Saturday, Jan. 3, to play Columbia-Burbank in a non-league game.
"We now have a week-and-a-half off. We need to work on defending better without fouling," Ledgerwood said of his team's focus during the break. "We are putting the opponent at the free throw line too often with lazy fouls on the defensive end."